Last year sometime my wife and I decided that we wanted to take a trip to California. She had never been, and my parents tell me that I visited as a child but I only vaguely recollect this event. We were excited to spend a few days in San Francisco and several days in the Yosemite National Park area. We were ready for an adventure of good food, iconic sights, and some peaceful trail time. California wouldn't disappoint.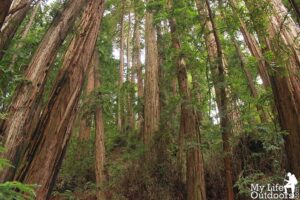 Muir Woods
We began our adventure in Sacramento. The first thing we noticed as we strolled towards the rental car kiosk was how nice the weather was. Man, Californians have it all…beaches, mountains, skiing, and amazing August weather. We had just left the scorching, 115-degree heat of a Texas summer. We marveled at how nice it was to need a light jacket. I could get used to this.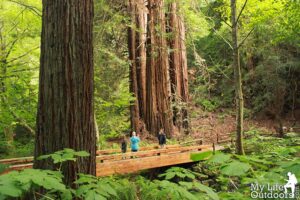 Muir Woods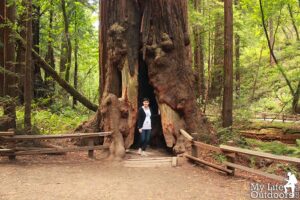 Muir Woods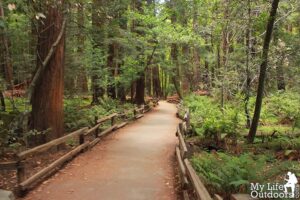 Muir Woods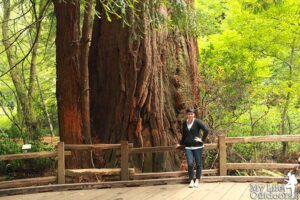 Muir Woods
Driving our rental car from Sacramento to San Francisco was underwhelming. We fought the traffic and began to realize there was a small piece of justice in the world. Traffic in our smallish Texas town is having to sit through a red light more than once. We spent hours trying to snake through San Francisco. We quickly realized that we only had 5-6 hours to see San Francisco and snaked back over the Golden Gate Bridge in hopes to catch a small glimpse of Muir Woods.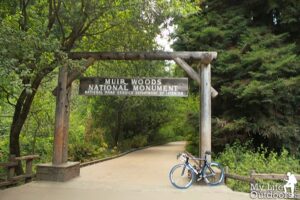 Light was fastly fading when we arrived at Muir Woods. My wife and I hopped out and walked a quick loop through the forest. This was the best piece of our San Francisco experience. These towering giants of the forest seem to exist only to remind us that we are miniscule. You feel irrelevant standing under their creaking sway. I could have spent hours here. Light was fading and our stomachs were growling, we reluctantly left the woods and headed back towards the city.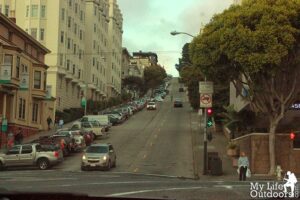 Lombard Street – The Straight Side
We were told that we had to eat a bowl of clam chowder with accompanying sour dough bread. I wish we had taken time to research some off the beaten path options, because we ended up on the tourist trap of The Pier. This experience only made us long for the woods even more. However, just like our trek down Lombard Street, The Pier is a piece of San Francisco you can't help but have.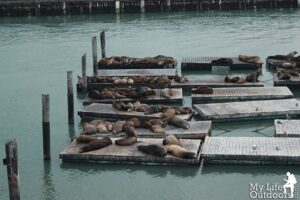 Sea Lions on Pier 39
By the time we reached our sketchy city hotel room, where I seriously thought I would have to use my bear spray for the first time on some not too trustworthy looking folks, my wife and I were yearning for Yosemite. We thought we would relish the hotel stay, but instead found ourselves bitten by the lure of wilderness. Wishing for a starry sky, we laid our heads down in a questionable section of city, buzzing with the excitement of an adventure lying out before us. The next day we would be in Yosemite, picking up our permits for a backcountry experience that was sure to not disappoint.