If you are looking to buy a lightweight, warm, high quality backpacking quilt you are probably looking to spend $300-$400. Whether you are looking at Enlightened Equipment, Feathered Friends, UGQ, or one of the other great companies that make backpacking quilts. Your going to drop some cash.
But you don't have to, you could get a lightweight, high quality, down quilt that competes with feathered friends and enlightened equipment, for warmth quality and weight, but only spend $189 (affiliate link). Today I'm talking about the Featherstone Moondance 25 backpacking quilt. Specifically some things that make this a really smart buy, and a few things that I wish were just a little better. 
This is the $189 Featherstone Moondance 25. 
So before I get into the things I like about the Moondance, I want to explain what a backpacking quilt is, because I know I have some subscribers who don't know. But if you are already familiar with quilts then you can jump ahead to the next section.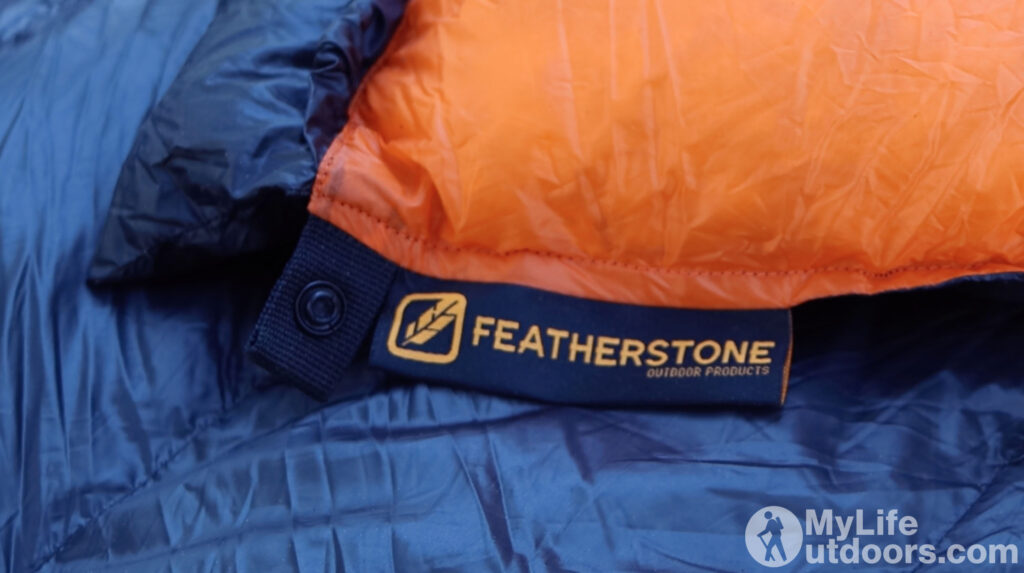 Basically what a backpacking quilt (or a top quilt as it is sometimes called), is…really simplified, is a sleeping bag without a back. And if you are new to backpacking you may wonder why would you want a sleeping bag without a back?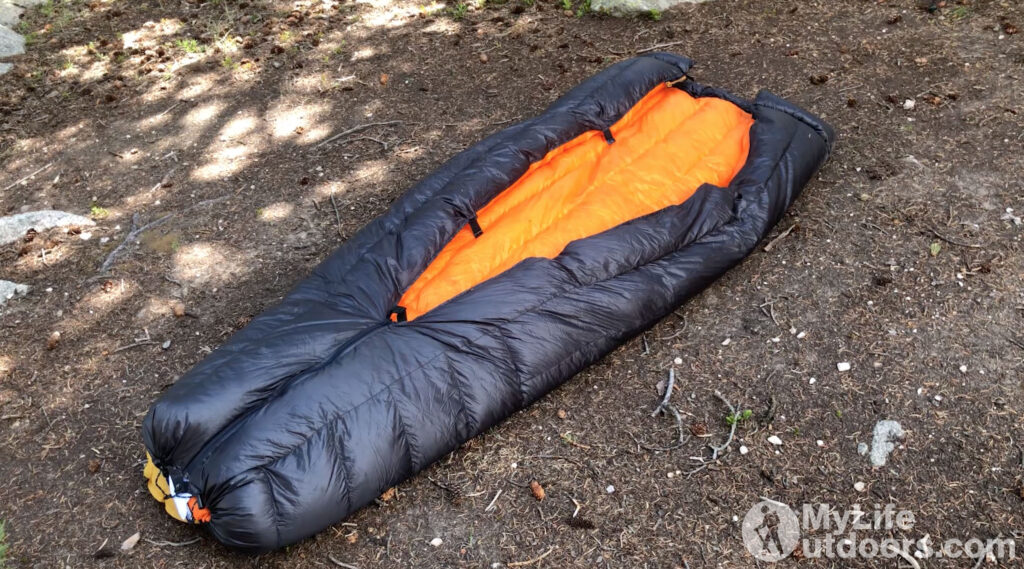 Well quilts have a few Benifits over sleeping bags. One, for the most part the back of a sleeping bag is wasted weight and bulk because the insulation in your sleeping bag can only keep you warm when it is lofting up creating air space between you and the cold. But when you lay inside your sleeping bag you are crushing all that insulation and it can't keep you warm anymore.
In fact the only way you are able to keep your back warm in a sleeping bag is because your sleeping pad has its own insulating value. And when sleeping bags are temperature rated that rating assumes you will be using a fairly well insulated sleeping pad.
So a quilt just cuts out the he back of a sleeping bag, saving you weight and bulk by taking advantage of your sleeping pads insulation properties.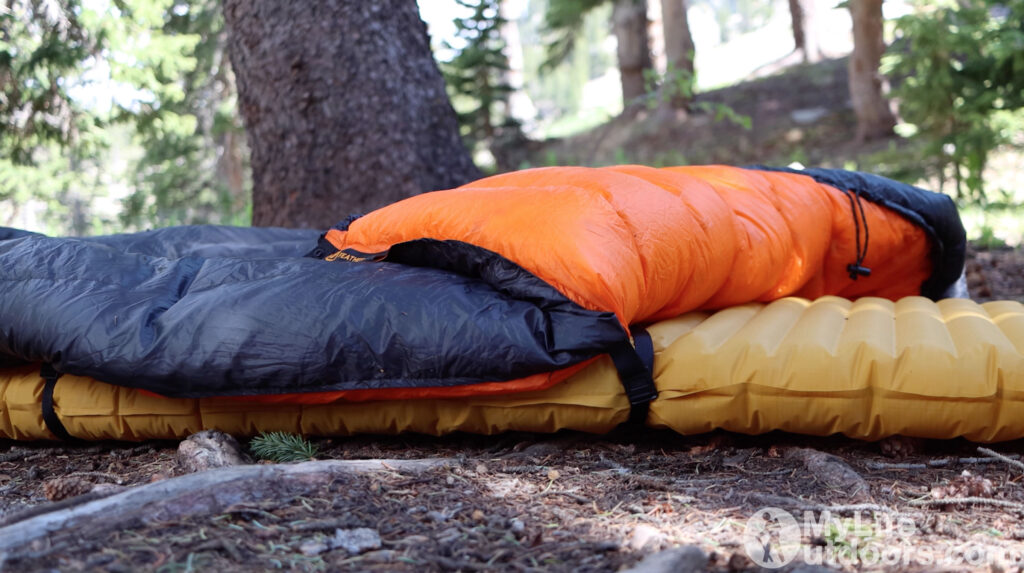 In addition to that a quilt is more versatile, and some people say more comfortable, because it acts more like a blanket than a sleeping bag. If you are hiking in warmer temperatures you can use a quilt to just cover a portion of your body and regulate your warmth a little better. But on the flip side a quilt doesn't have a hood which means if it's cold you will have to rely on other means to keep your head warm.
So that is the basics of a backpacking quilt. Now I want to talk specifically about the Moondance 25 from Featherstone
Warmth
Warmth is probably the number one thing you are looking for in a quilt. After all if a quilt can't keep you warm then what good is it?
One of the things that really impressed me with the Moondance was the fact that it has been ISO certified. You see, companies don't have to certify their quilts and sleeping bags and can arbitrarily "rate" their quilts whatever they want. But when you buy an ISO certified quilt you have a pretty good idea of just how warm the quilt is going to be.
The Moondance has an ISO comfort rating just above freezing at 36F. And a limit rating of 26F. So when they advertise the quilt as a 25 degree quilt they are basically advertising the quilts limit rating, which is the temperature where most cold sleepers will fill slightly chilled, curled up in a ball trying to stay warm, but not shivering and not in danger of hypothermia.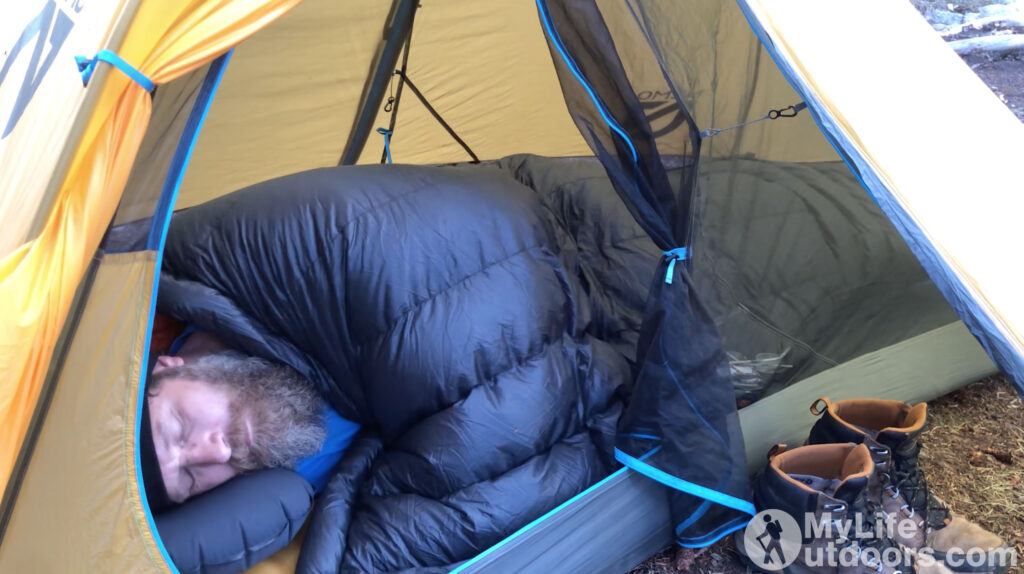 So while this quilt is rated to 25 degrees, cold sleepers will want to pay more attention to that 36 degree comfort rating and warm sleepers probably won't want to take this quilt out below freezing.
As for me I have slept in the Moondance in temps as low as 37 degrees which is pretty close to the comfort rating, and I only had a t-shirt and my underwear on. You see when they test quilts the mannequin has on one one full body layer of clothing. And is sleeping on a sleeping pad with an R value of 4. My sleeping pad was closer to half that.
All that to say. The Moondance seemed to keep me warm and probably could go colder. There were times that I felt chilled, but I believe that was due to small drafts that made there way in when I would toss or turn in the night. And Anytime I felt chilled I would reposition the quilt and I felt fine after that.
In all honesty I wasn't expecting temperatures to drop below the high 40s so I didn't take the time to really secure the quilt to my pad. If I had, I believe I could have prevented drafts from occurring and had a problem free night.
Weight
The Moondance is competitively light weight coming in at just 23 oz for the quilt alone, and Just 1 or 2 oz more for the included pad straps. This is thanks to the 850 fill power down insulation which not only has a high loft but has also been treated with DownTek water repellency.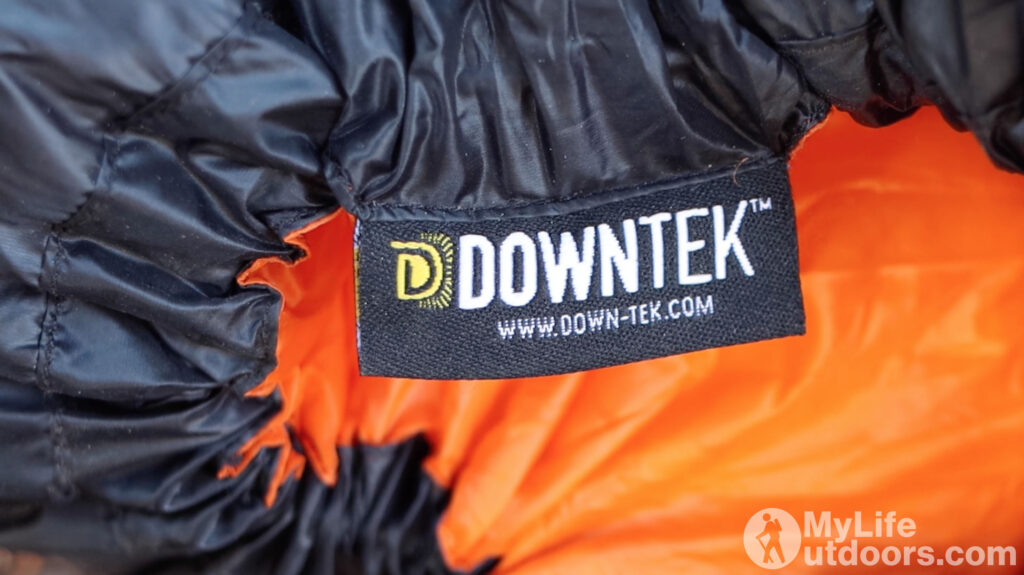 You see one of the problems with down is it's worthless when it's wet, it can't insulate, it gets very heavy, and can even be dangerous for hikers and campers. It is considered worth it because of how I'm incredibly light and compressible it is. That all changed a few years ago when companies like DownTek found a way to treat down feathers so they repeal water. It's not 100% effective, but it makes down a whole lot safer to use.
Design
The Moondance has a very similar design to it's more expensive competitors. There is a zipper and drawstring at the bottom to create the foot box. This design leaves a small hole at the very end that can create a draft on cold nights. But to fix this a lot of people will simply stuff that hole with a sock.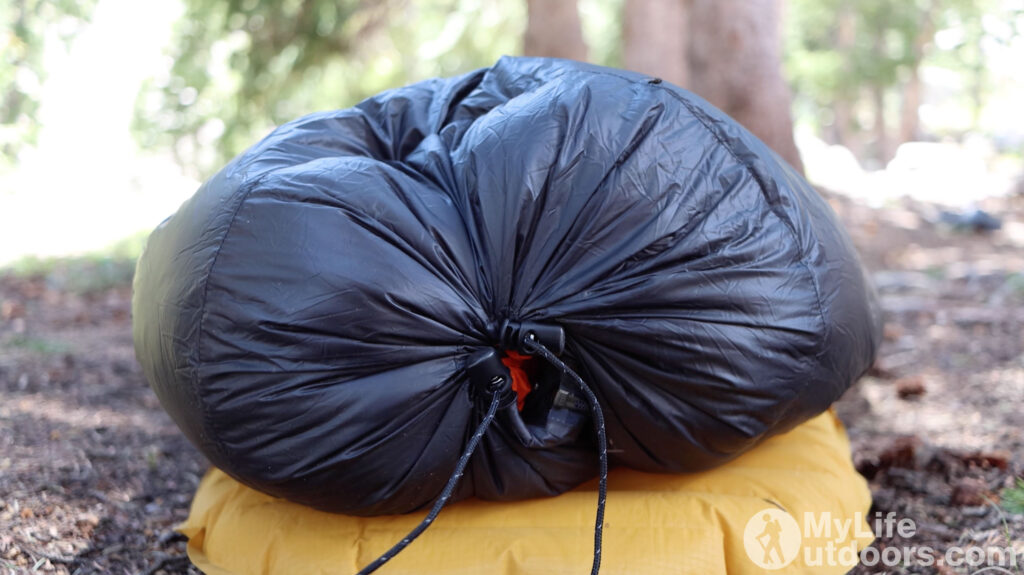 There are a few buttons and snaps that will allow you to snap the back together creating more of a sleeping bag feel, or you can use the included pad straps to secure the quilt to your sleeping pad minimizing drafts caused by tossing and turning.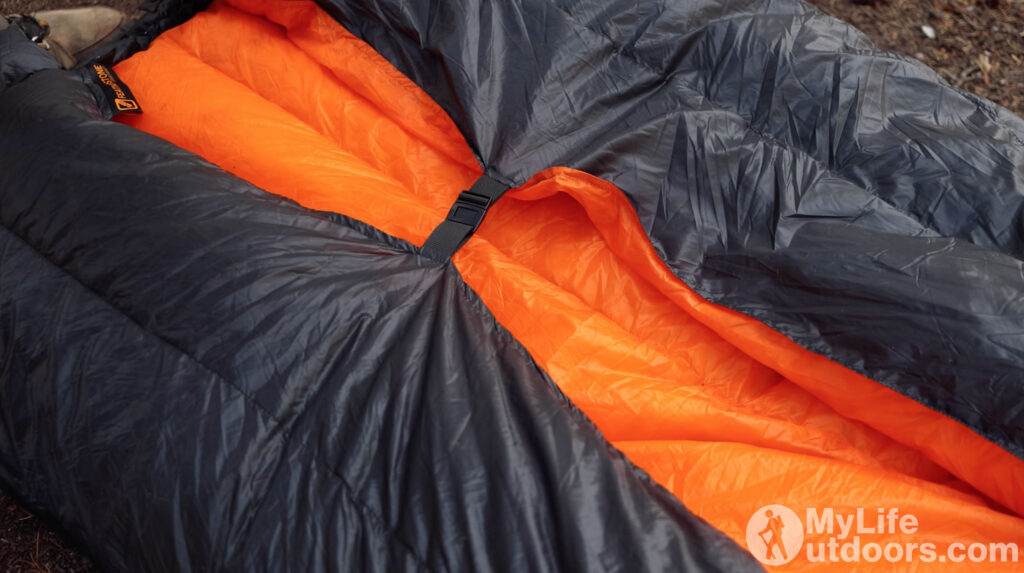 It features boxed baffles that run the lengthways except around the foot box where the baffles go side to side. These long lengthways baffles are desirable because it prevents the down from falling to either side. And all the stitching seems well sewn with no visible flaws that I found.
Con
That's right there is just one. And that is customization.
The main thing that the Moondance's competitors have that it lacks is customization. Feathered friends, enlightened equipment, and UGQ are all making similarly designed quilts AND offer a ton of customization, everything from the color of the material, the temperature ratings, and even the fill power.
But, the Best I can tell, Featherstone doesn't. They have one temperature rating, one fill power, one color scheme, offered in two sizes. But again, you are buying a quilt that is less than $180. I don't know about you, but For the savings…I think black and Orange look great together.
All in all Featherstone seems like a young company that has come to the table ready to compete. With a handful of really nice features at an affordable price. I'm pleased with my Moondance 25. I do need to let you know Featherstone did send me this quilt for free to review, but these are my honest opinions. And I want to say thank you to Featherstone for gifting me this quilt and giving me this opportunity to review. 
But what about you. What do you think of the Featherstone Moondance 25? Had you heard of Featherstone before reading this review? Leave me a comment and let me know. Thanks for reading.