Backpacking tents are tiny. And when you are just carrying your tent, that's great. Tiny tents fit better in your pack and reduce weight. But the rest of the time, tiny tents SUCK.
And for me, the suckiest part about backpacking tents is …
The Headroom
For the last several years I've been putting up with terrible headroom for one main reason: to save weight. Sure there are tents out there that have better headroom, but to me the room just wasn't worth the added weight.
But then I found the Mountain Hardwear Strato 2P tent. It's six ounces heavier than what I typically carry. But oh my it has soooo much more headroom.
The tent comes in at 2 pounds 6.5 oz on my home scale with all the poles, stakes, and guylines. Which is really pretty good for a two-person backpacking tent.
Most people don't believe two-person tents are actually suitable for two people, but I actually use them that way. When there's only one person in a two-person tent, headroom isn't as much of an issue. But when you have two people in a tent, for me, the biggest issue is when you are trying to sit up and put on or take off a layer. There just isn't enough room.
BUT … check out this video where my buddy Kyle and I prove it can be done in the Strato.
The Strato really improves upon this with almost two feet of headroom at the top of the tent, making the sidewalls much closer to vertical.
It isn't the lightest tent, for sure, but those extra 6.5 oz are worth it for the headroom.
Two of Everything
The other thing that I feel like all two-person tents should have is two doors and two vestibules. If you have two people in a tent, the last thing you want to do is climb over the other person to get in or out.
The Strato not only has two doors and two vestibules, but each door has two zippers. At first, I was wondering what the benefit to that was, but the double zipper makes it easier to open the door with one hand, which when you're flopping around inside a tiny tent with two people, is really nice.
Two Awesome Pole Features
Two other really nice features on this tent include the pre-bent pole at the feet that gives you just a little more room to keep the toe box of your sleeping bag from soaking in condensation.
And one of my absolute favorite features on this tent is the fact that a gear company finally figured out that we don't want to keep the poles in the same bag as the tent and fly. Maybe other companies know this, but Mountain Hardware is the first I've seen that gives you an easy way to keep the poles with the tent. It's simple, but I love it.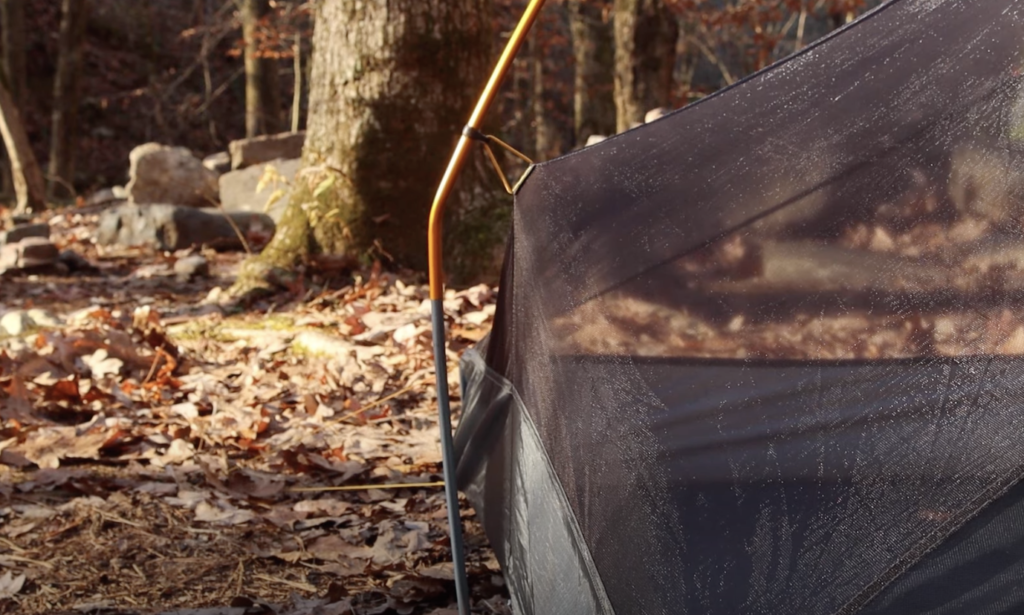 Cons:
This tent isn't going to be good for tall people. As you can see in this part of my video, I got my friend Kyle to lay down in it, and both his feet and his head brushed up against the walls of the tent. For that demonstration, we didn't take the time to inflate sleeping pads, but a 2–3 inch sleeping pad will make this worse. This is a common problem, and if you're tall, I don't know of a tent that will accommodate you. If you know of one, please leave a comment pointing others in the right direction.
This tent was a little difficult to get the fly taut. I intentionally had to go around a few times and tighten down all the guy lines to get a nice, tight, taut fly, where on most tents I'm used to, I can usually get a nice tight fly in one go as I'm staking out the tent.
I haven't had this tent in a real good rain, but just knowing my experience with other similar designs, you will likely experience some back splash due to how low the mesh is on this tent, but what you sacrifice in splash back you gain in weight-savings and better ventilation.
The Most Annoying Thing …
The most annoying thing about this tent is that for most of the tent they used these unique clips that weigh slightly less than the more traditional pole clip. It's not much but it's thinking out of the box and I like that in a tent.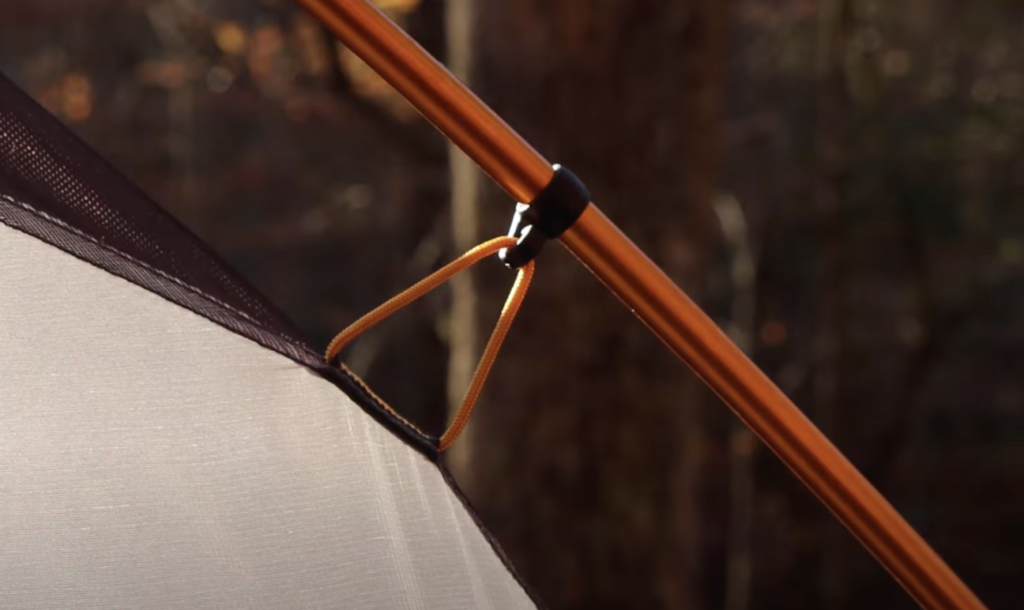 BUT for some reason, near the bottom front they abandoned the whole clip design in favor of two loops. And I just don't understand why. Because they are annoyingly difficult to feed the poles through IF you even remember to use them.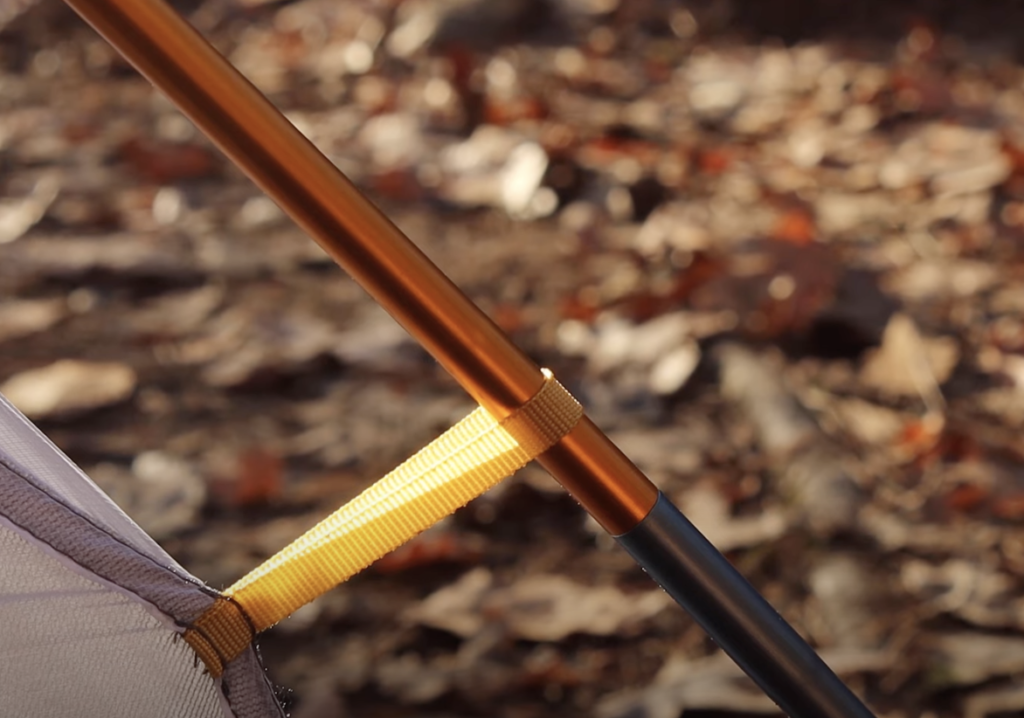 And Another Thing (or two) …
Another thing that bothers me is when tent companies make a two-piece floor with a seam. I know it's possible not to, because my Nemo Hornet had a solid one-piece floor. This, I feel like, is just begging for standing water to leak through it at some point.
The last thing on my cons list is a small thing, but I don't like the way the door tie-back is way-the-heck back toward the feet. It's just a long way to reach to tie back the door.
Color
Now this really isn't a con, but I don't think it's a pro either: the color. I don't like the white. It's not bad, and I know it reduces the amount of dyes, energy and water it takes to make this tent, (which is a pro), but I prefer a nice, bright color that pops in photos and video. But maybe that's just a YouTube-er problem.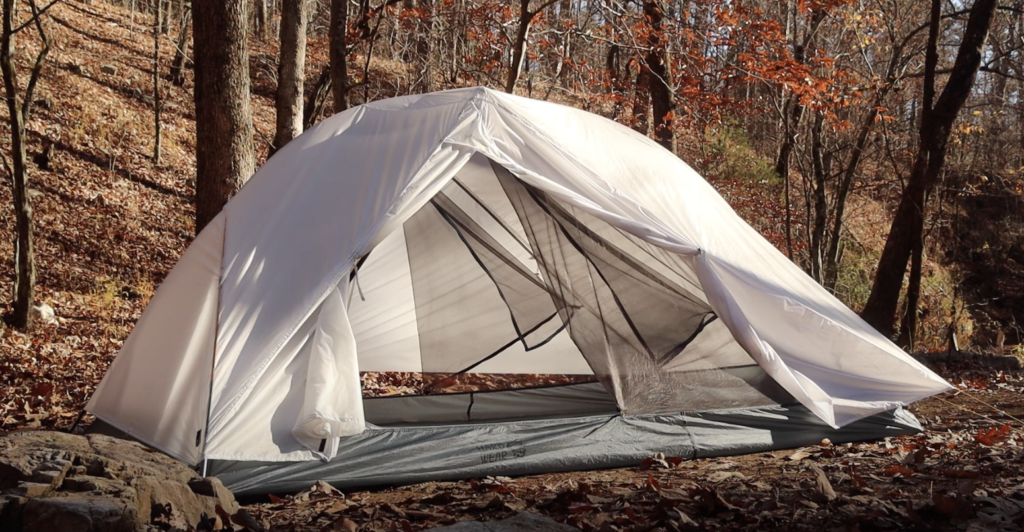 Price
At $400 US, this isn't the most expensive tent, but it's also not the cheapest. So you decide if that's a pro or a con, and let me know in the comments below. I'd love to hear your opinions.
So there you have it the Mountain Hardware Strato 2p tent. New for 2021. Tell me what you like or don't like about the tent, or if you think the headroom is worth the ounces.
Be sure to follow me on YouTube and Instagram at MyLifeOutdoors
And as always, thanks for reading.