Back in October my family and I went to check out
Garner State Park
for the first time. Having lived in Texas all my life, it was practically a sin that I hadn't been to Garner yet. But for good reason….Garner is by far the most popular park in Texas. The one thing I hate more than anything else is crowds encroaching on my time in the outdoors.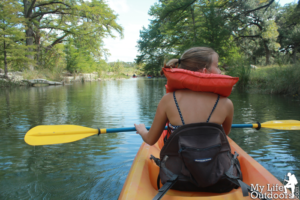 Floating the Frio River, Texas
Our solution was to take a short river Trip down the Frio River. Even with every campsite in Garner full, no one was willing to venture the cold Frio river this late in the season. We had it all to ourselves.
My mom and dad had joined us to celebrate my Daughters 3rd birthday. I own a couple kayaks perfectly suited for Texas rivers, but needed a couple more if everyone was going to enjoy the river. I did a quick internet search and found Star Rentals just south of Garner State Park. They offer single and tandem sit on top kayaks as well as inner-tubes for paddling or floating the Frio River. We got one single and one tandem Ocean Kayak form Star Rentals. The owner, Chuck, shuttled us and the boats down the road to the put in on Country Road 350. He then took his personal truck down to the get out and left it there for us to use. Chuck and Star Rentals were very accommodating and helped make our trip a huge success. If you are in the area and looking for a good river outfitter, I highly recommend Star Rentals.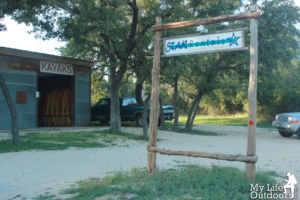 Star Rentals on CR 350 just south of Garner State park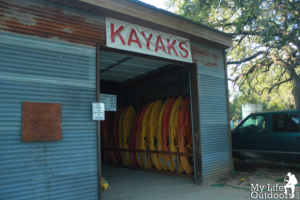 Star Rentals on CR 350 just south of Garner State park
We put in at County Road 350 at the widest park of the river, which was a dead end. As it turns out the narrow, fast flowing, part of the river was the actual flow. We backtracked carrying the heavy boats 100 yards across rocky uneven terrain. When we finally got back in the boats we calmly floated about another hundred yards before running into what appeared to be a barbwire fence across the river. It turned out to just be bailing wire, but still seemed to be an unnecessary hazard. If I am correct it is illegal to stretch fences across public rivers in Texas. Had the water been flowing a little faster, it could have been a real danger. The Rest of our trip was calm and relaxing. Most of the rapids were small and fun to negotiate. The river was flowing pretty low witch required us to drag the boats in spots. There was only one major rapid which everyone but the wife and I portaged.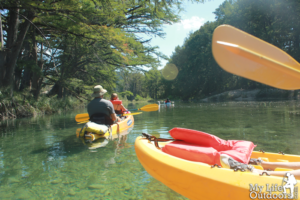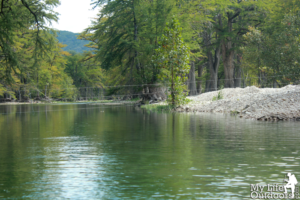 Fence across the Frio River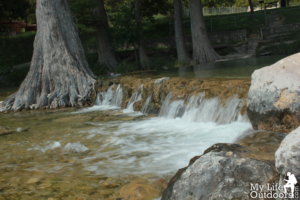 Small Dam on Frio River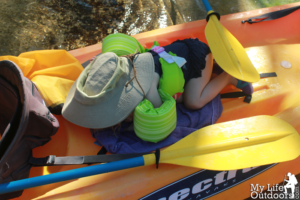 My youngest sleepin on the Kayak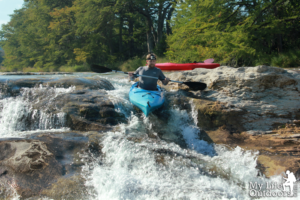 A large rapid with barely enough flow to be runnable.
The trip took about 3-4 hours total, but times are dependent on river flow. The flow for us was very low. We took out at 7 bluffs where Chuck's truck was waiting. We loaded the kayaks into the back and headed back to Star Rentals. It was a fun, relaxing enjoyable trip for the whole family. Our next adventure was a short hike through Garner State Park…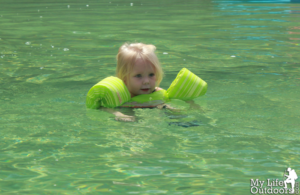 The water was cold, but not too cold to swim.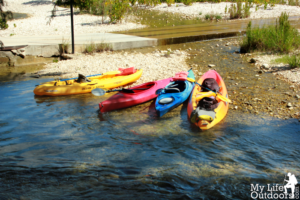 To get to Star Rentals from the Dallas – Ft. Worth area take I-35 South to Austin. From Austin Take US 290 West to Fredericksburg. In Fredericksburg take Hwy 16 West towards Kerrville. At I-10 turn right and go West on I-10 West to Hwy 41. Take Hwy 41 West to US Hwy 83. Take US Hwy 83 South through Leakey. Stay on US Hwy 83 South 9 miles to CR 350. Turn left on 350 and continue about 2 miles and watch for Star Rentals on the left.
From Houston take I-10 West towards San Antonio. In San Antonio as you travel west on I-10 stay to the left to remain on US Hwy 90 West. From San Antonio Take US Hwy 90 West to Sabinal. At the traffic signal in Sabinal turn right on Hwy 127. Stay left on 127 as you leave Sabinal, taking 127 to Concan. Take US Hwy 83 North at Concan to CR 350. Turn right on 350 and continue about 2 miles and just watch for Star Rentals on the left.