This is one of several posts contributed by my wife. We hope for this to become a regular segment on MyLifeOutdoors. A valuable resource to women (and their husbands) who love the outdoors (or who, at least, wish to love the outdoors). This is My Wife Outdoors.
Several months ago I was visiting Monahans Sandhills State Park when I picked up A Texas State Parks State Park Guide. I had rode with some friends to the park and on the way home I had 45minutes to kill so I started thumbing through this Guide, which made me start dreaming of all the places I would rather be going. On the top of this list was Garner State Park.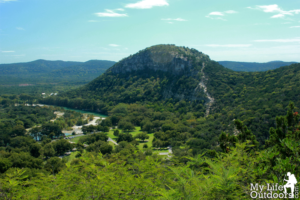 Old Baldy – Garner State Park
I have always dreamed of going to Garner State Park, the problem is Garner is always busy and always full when we have time to go. This year I was determined to finally visit one of my local dream destinations.
–>
During October we decided to take our youngest daughter on her very first ever Birthday trip. You see in our family we take our oldest daughter on a trip every year for her birthday. The premise is that Birthday party's are stressful and I don't like to be stressed when I am celebrating my kiddo's life. Also, we decided that for the same money it would cost to plan a party and buy presents we could build memories. We have also discovered that when we get away we actually get to spend quality time enjoying each other, much more than we would at home with the distractions of television and outside people. So we get away. Our youngest daughter has never cared about where she is or what she does. This year though she has started begging to hike, backpack, camp, and go to the "actual park (national park)." I mean this kid actually cries when you take her to the park because it isn't the National Park and there is no camping! So we decided to take her to Garner and we finally snagged a campsite…the very last one in the whole park!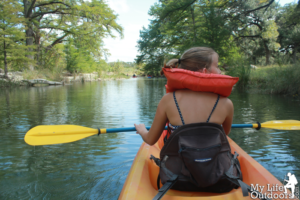 Kayaking on Frio River – Garner State park
I will leave the technical report to my hubbs and just tell you what Garner was like for a Mommy of two young girls. It was amazing! We arrived at Garner and were pleasantly surprised, though every campsite was booked the sites were so spread out that we felt decently secluded from other campers. We set up camp that night and laid down to bed with an awesome view of the Milky Way in the night sky. The Frio River was pristine and swimmable, even in early October. We spent an entire day kayaking through the beautiful Frio. The showers were nice and clean. What I really loved about Garner was the ability to kayak and hike. The trails were plenty easy and I think we could have explored all of the available trails in a weekend or less. We hiked up Bridges Trail and got a beautiful view of Baldy and the beautiful bend of the Frio nestled below. We also got to explore a small cave with our girls. There was so much to do!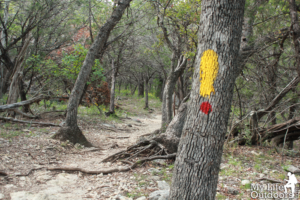 Trail Blaze at Garner State Park
Garner was a hit and I don't think my girls will forget the memories we made there! I will definitely have to make a few more trips to this Texas gem! If you have never been I highly recommend it! Garner isn't as secluded as we typically like to be, but it is beautiful and worth exploring.