A few weeks ago I grew tired of watching TV every night, and wanted something to do localy outdoors. Believe it or not, Midland isn't an outdoor friendly town. We have a few city parks, but nothing that offers decent outdoor recreation. So in an effort to stay active outdoors I took up slacklining…and I'm hooked.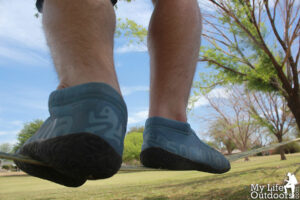 Sockwa The Ideal Slackline Shoe
There's only one problem…Stickers. Midland is over-run with stickers. Which makes slacklining barefoot (the best, and preferred way to slackline) impossible. So I set out to find a good pair of slackline shoes. Which was my next problem. There jsut isn't much information out there about good slacklining shoes. Nor is their much info on what type of shoe works best. I even went in to ask the experts at REI, everyone told me to go barefoot, when I explained my problem…they had nothing to offer.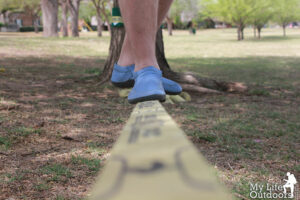 Sockwa The Ideal Slacklining Shoe
It was about this time in my search that @SockwaSlack began following me on Twitter. Their tagline stated "Sockwa is a new breed of natural footwear…Ideal for slackliners." With a little research I found out Sockwa produces a unique type of minimalist/barefoot shoe, which they claim has the "thinnest sole possible", allowing for "maximum tactility and natural foot movement." It is the closest thing to going barefoot possible. I decided to contact Sockwa and see if I could give them a try.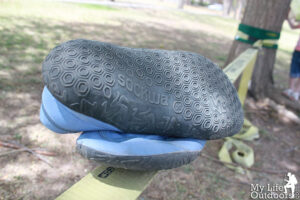 The incredibly thin sole on the Sockwa G2. Pefrect for Slacklining
After almost a month of slacklining in my G2 Sockwas, I am a believer. Nothing compares to the feel of Sockwa on the slackline. The difference between my Merrell Bare Access 2 (also in the Minimalist/Barefoot category) and the sockwa's are night and day, especially on the slackline. The sockwas really feel just like going barefoot. Possibly even better.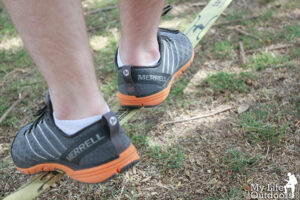 The Difference between my Merrell Bare Access 2s and the Sockwas is night and day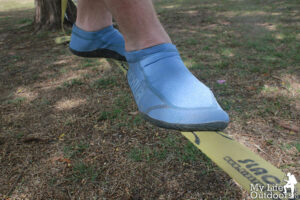 The Sockwas allow me to feel and conform my foot to the line while also providing just the right amount of added traction. I can walk over stickers, sticks, and more without hurting my feet, they are small and flexible (more like a sock then a shoe), and feel great with or without socks. I have to agree with Sockwa, they really are "Ideal for slackliners."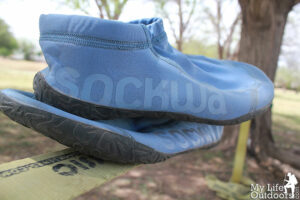 Sockwa The Ideal Slackline Shoe
If you are looking for a great pair of slacklining shoes, I encourage you to give Sockwa a try. You can purchase straight through their website, or you can use the links below to support MyLifeOutdoors. (I earn a small commission on every sale.)