Dinosaur Valley State Park, located about an hour southwest of Fort Worth Texas, contains some of the best preserved dinosaur tracks in the world. The park sits alongside the Paluxy River bed which, according to scientists, was an ancient ocean shore 113 million years ago. The park has four viewing sites where tracks are reported to be seen.Both theropods (three towed) and sauropods (large round feet) tracks have been discovered in the river bed. Many of the tracks in the park seem to have eroded almost completely away. Those that have not eroded where cut from the riverbed in the 1940's and removed in giant limestone slabs. Only a few tracks remain in the park at all.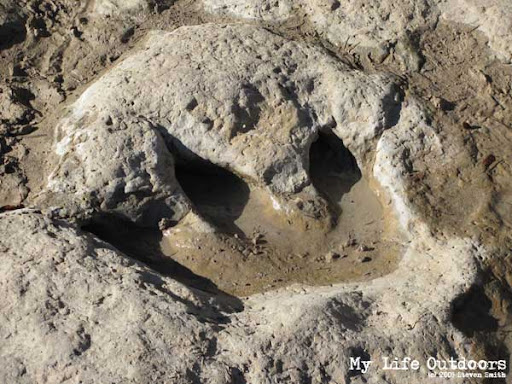 While I was there I could only see the three towed Theropod tracks and only at viewing site number two. Site two seems to be the only site where the tracks are clearly marked. At all the other viewing sites it felt more like a egg hunt trying to find holes in the river bed that might be a foot print. Site tree's viewing area is on top of a high river bank and has been fenced off making viewing impossible. All the tracks are in the actual river bed, the best tracks require crossing the river on stepping stones, it is always wise to call ahead to check river conditions.
Dinosaur tracks are not the only thing to see in do in Dinosaur Valley. During the hot summer months the Paluxy becomes a refreshing swimming hole. Flow is slow and shallow making wading and swimming very enjoyable. The park has both primitive and full RV hook up camping facilities. Camping areas are nicely shaded and have clean restrooms and showers. There are no restrooms or showers in the primitive camping area. There are a nice variety of hiking trails stretching a total of 20 miles. The trails are clearly marked, well maintained, and accessible for mountain biking. Equestrian use is allowed in a separate 100-acer area.
The small town of Glen Rose lies adjacent to the park. Hotels, bed and breakfast, and other accommodations are available. Don't expect to much, though, Glen Rose has done well in maintaining a small historic atmosphere.
Other nearby activities include Canoeing the Brazos river, or feeding the animals at Fossil Rim Wildlife Park.
Here is a link to a Picasa album of Dinosaur Valley State Park, Texas