This is the one of several posts contributed by my wife. We hope for this to become a regular segment on MyLifeOutdoors. A valuable resource to women (and their husbands) who love the outdoors (or who, at least, wish to love the outdoors). This is My Wife Outdoors.
I pretty much have a water bottle obsession. There, that's out in the open and I feel tons better. I drink a ridiculous amount of water and like to keep a bottle on me when I am on the go. Which is somewhere around 99.9% of the time. When my hubbs was sent a 25 oz. Eco Vessel Aqua Vessel to review I snagged it pretty quickly. For one it was purple (Yay!). Two the man only drinks a single 12oz soda every day somehow manages to not shrivel up and die. He will say this is untrue…but don't believe him. Obviously, a purple water bottle would be of little use to my man. I carried around the Aqua Vessel for a few weeks and I must admit I am currently in love. It is now my favorite go-to water bottle. I get sort of bummed when it is in the dishwasher. Here is what I love about the Aqua Vessel…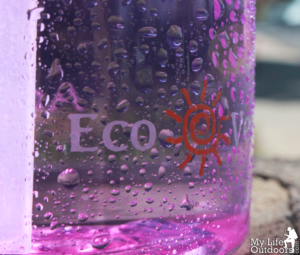 Eco-Vessel
The Aqua Vessel is durable. I know because I drop things a lot. I was worried about it's durability because it is made of hard plastic. My last Thermos brand hard plastic water bottle cracked the first time it hit the ground. I dropped the Aqua Vessel on pavement the other day and it survived beautifully.
The Aqua Vessel is big. I like to drink at least 64 oz. of water a day (you have to flush out the coffee somehow). This water bottle is 25 oz. so it is easy to meet my daily water quota and I only have to get up from my office desk for 3 refills.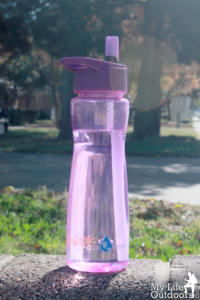 Eco-Vessel Aqua Vessel
The Aqua Vessel comes with a filter. I admit that I didn't try the filter out because we only received one and wanted to save it for the giveaway. We drink only filtered water in Midland because our water tastes like pool. It takes a good filter to rid the water of that taste and I was curious to see if the Aqua Vessel's filter would measure up but didn't want to waste a filter someone else might be able to use more than once.
The Aqua Vessel is leak proof…as long as you make sure the straw portion is completely closed. This is my favorite part. I often throw a water bottle in my purse to run errands and find all my receipts and junk floating in the bottom soaked. I am happy to say that the Aqua Vessel passed the leak proof test as long as it was closed properly. Which is more than I can say for our Camelbak water bottles (So frustrating!!!).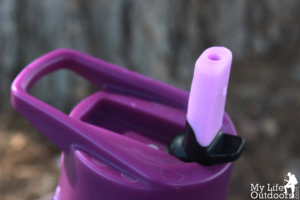 This water bottle would be great for hiking, biking, and just running around town with. I am strongly considering buying a few for my girls. That is saying something because I recently swore off water bottles because of constant leak issues. These bottles are cheaper and better than the similar style Camelbak. If you haven't given an Aqua Vessel a try you definitely should! I hope you are as pleased as I have been. Did I mention they come in purple???!!
If you would like to win an Eco-Vessel along with a ton of other gear you can in our Outdoor Winter Giveaway. There is only a few hours left so hurry and enter below. To see what else we are giving away go to the giveaway post here. a Rafflecopter giveaway