This is the one of several posts contributed by my wife. We hope for this to become a regular segment on MyLifeOutdoors. A valuable resource to women (and their husbands) who love the outdoors (or who, at least, wish to love the outdoors). This is My Wife Outdoors.
I have to admit when my husband gave me two pairs of Injinji toe socks to try out and review I could think of no worse torture on earth. You see, I have feet issues. I hate uncomfortable shoes and really prefer to not wear shoes at all. I don't like people touching my feet. I absolutely loathe for my toes to be separated. When I go get pedicures and they put those little toe separating things in between my toes I often think, if I were a secret agent I could be forced into confession by having my toes splayed apart. Yes. I just used the word "pedicure"on an outdoorsy man blog. Before I lose all of my awesome hubbys readers I will get to my point. Toe socks are not my bag o chips. I love my man though so I have been wearing the injinji toe socks frequently over the past few weeks. Here are my thoughts…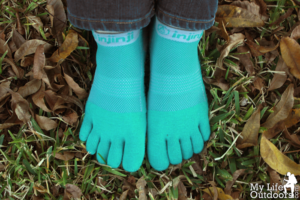 Injinji Socks
The first few minutes I put these socks on and walked around the house I thought "forget this. I'd rather have my toes amputated." Okay. I don't really think they were that bad, it was more annoying than anything really. The next day I wore my new hot pink injinji socks to work. It was going to be a long day and I really took a gamble because I didn't bring a back up pair of socks. One thing I really like about the injinji socks is that they don't fall down as you wear them. They got me through my day at work and I hardly even thought my toes being separated as the day wore on.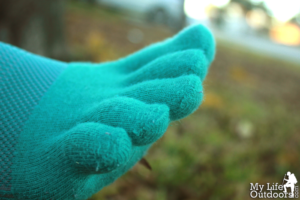 I am a runner. I just like to say that because it sounds cool. Truthfully I am more of a walk/jogger who wakes up at 5:15 three days a week to attempt running but usually fails. I like to take my out of shape middle aged dog running so I can use her as an excuse to "slow down" and so her hacking and huffing will mask my own pig like breathing sounds. That doesn't sound half as awesome as being a runner though. Moving on…throughout the next few weeks I put the injinji socks to the ultimate test and decided to wear them on my morning run. One of the things that I loved about the toe socks was that they kept my toes from overlapping and they don't bunch or slouch.I didn't have to stop and use "fixing my sock" as an excuse to catch my breath once. I have never been onboard the toe shoe train but these socks really started making me wonder if I wouldn't prefer running in that style of shoe. I can't believe I just wrote that.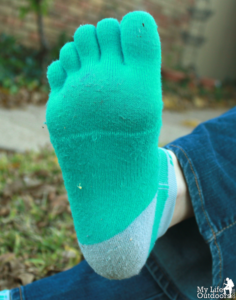 In the end I could see several positive aspects of the injinji sock. They have cushioning in all the right places, they keep your toes from rubbing, and they fit well. I think overtime I might be able to get used to the feeling of having my toes separated. I could definitely see where they would work for a Vibram FiveFingers style shoe. The only downside is that they aren't comfortable to just wear around, the toe separating takes some getting used to, and they are difficult to put on. I can't much fault the socks for not being designed for wear around the house comfort because I think this goes back to my toe splaying aversion. Plus I don't frequently sport my wool hiking socks around the home either. All in all these socks aren't bad. My eleven year old daughter loves them and they are making me possibly consider a conversion to toe shoes for running. If you are already a toe shoe fanatic these
socks rock.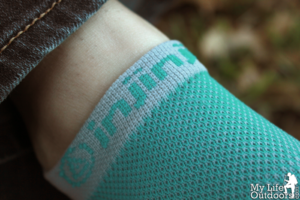 If you would like to win a pair of Injinji Socks you can right now in our Outdoor Winter Giveaway. Enter to win on the giveaway post or by using the raffelcopter interface below.