On our second Day (click here for day one) in California we woke up absurdly early to head to Yosemite from San Francisco. We were so ready to get out of the city and experience the part of California that had called us onto this adventure. We drove about six hours from the city to our campsite. Along the drive, while we were enjoying an amazing first view of the iconic granite monoliths, we were trying to make final plans about where to park our car and set up camp. We finally decided on a plan that would allow us to keep our car overnight and drive to the shuttle bus parking up at the Mammoth Mountain Ski Area.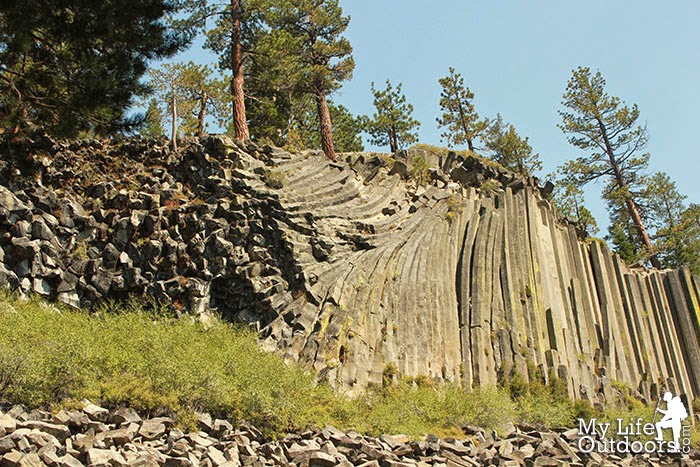 Devil's Postpile
My Wife and I at Devil's Postpile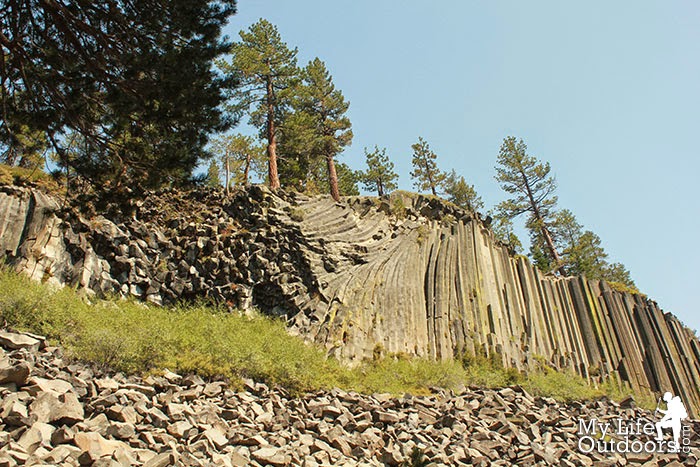 Devil's Postpile
Once we picked up our backcountry permits we had a few hours to enjoy the area, set up camp, and enjoy a last non-dehydrated dinner. We had seen some pictures of The Devil's Postpile and decided to take a look.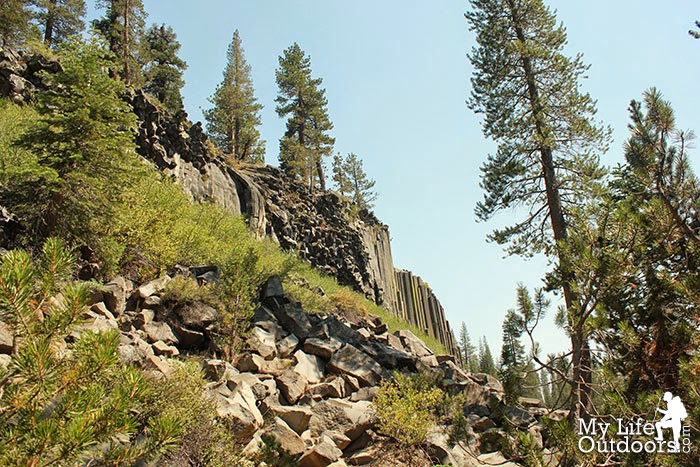 Devil's Postpile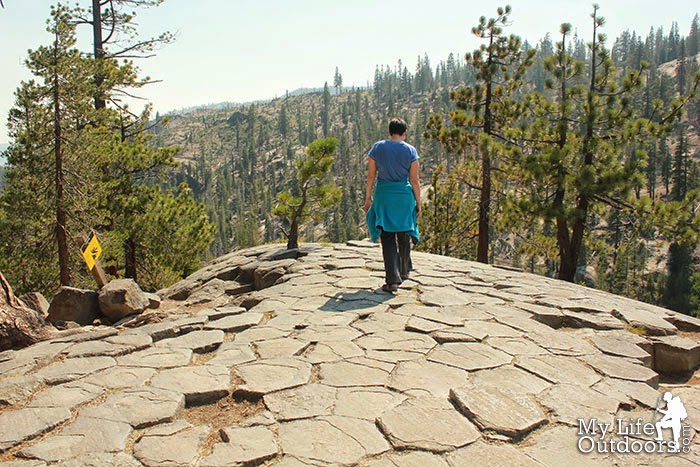 My wife on top of Devil's Postpile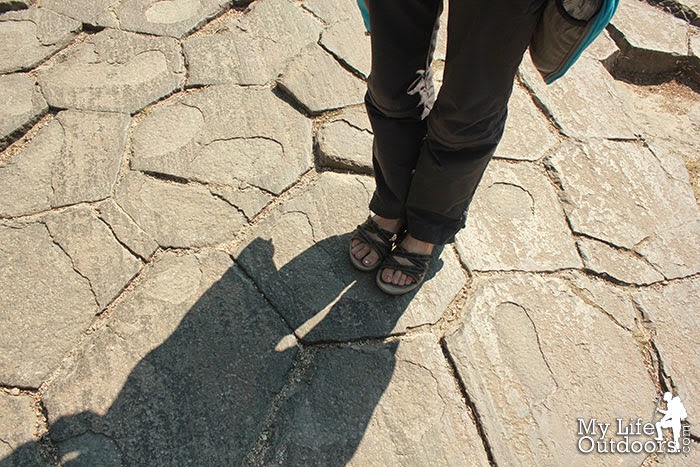 Hex shape at Devil's Postpile
The Devil's Postpile was truly fascinating. I can honestly say that I have never seen anything like these hexagonal tubes that appear neatly stacked against one another. Truly worth seeing.
According to the National park service:
"Devils Postpile National Monument's landscape is a reflection of fire and ice. The eruption and uniform cooling of basalt lava created an impressive wall of columns. Later a glacial event exposed the columns and polished smooth the top of this formation enhancing the pattern of hexagons that are a result of the mineral composition of the lava"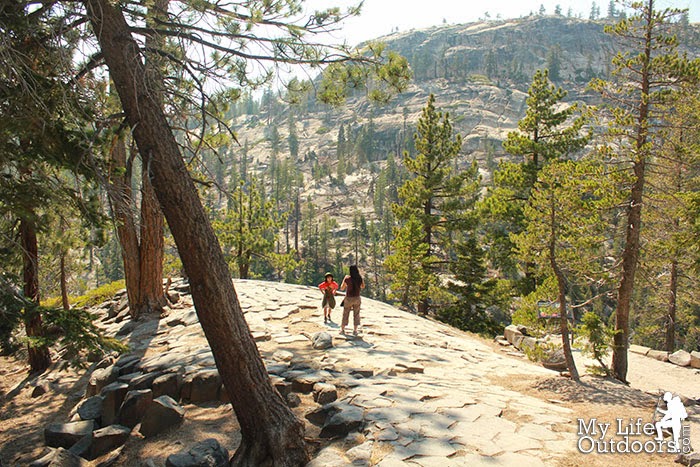 Two strangers atop Devil's Postpile
The view from atop the postpile gave us a taste of what our next few days hike might offer. Clear streams, giant trees. beautiful mountain views, and lush green meadows offered views that simply stole your breath away.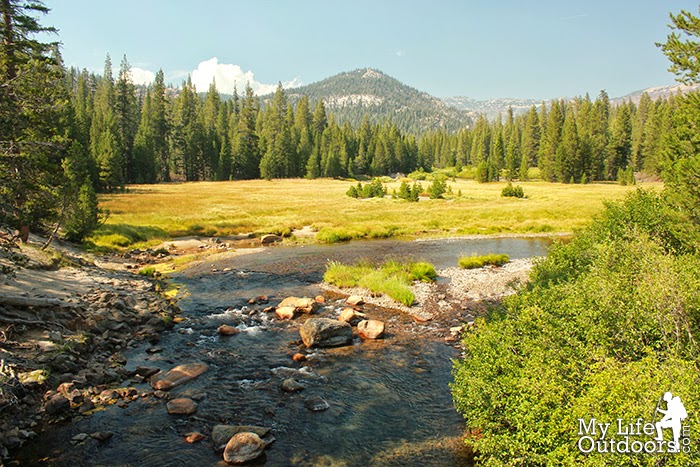 View from Devil's Postpile
After we poked around the postpile and ate dinner we headed back to our campsite at Reds Meadow. Tomorrow we would begin a four night hike through Ansel Adams Wilderness into Yosemite National Park. We set the hammock up and swayed with the anticipation of what this week would hold. As the stars began to peek out of the night sky we knew we were in for an unforgettable journey.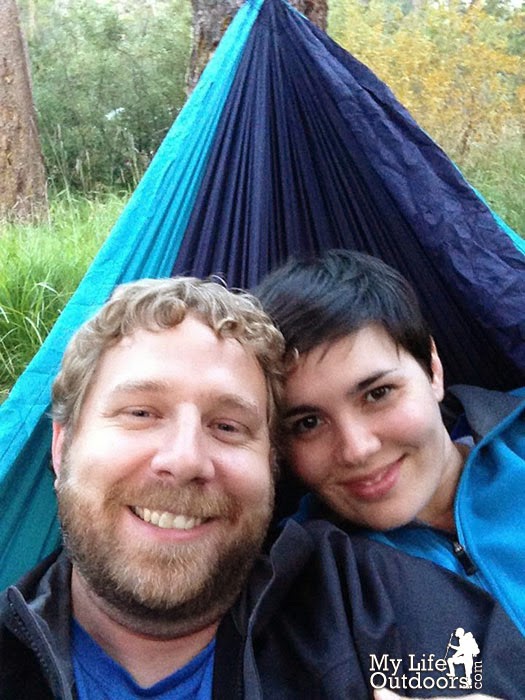 In our hammock back at camp.