I have spent most of my time hiking in the West. And I will admit in the past I have turned my nose up at Eastern mountains. Eastern mountains seem more like hills than mountains. The highest peak in the East isn't even as tall as the Texas high point. And Texas is stereotyped as being flat.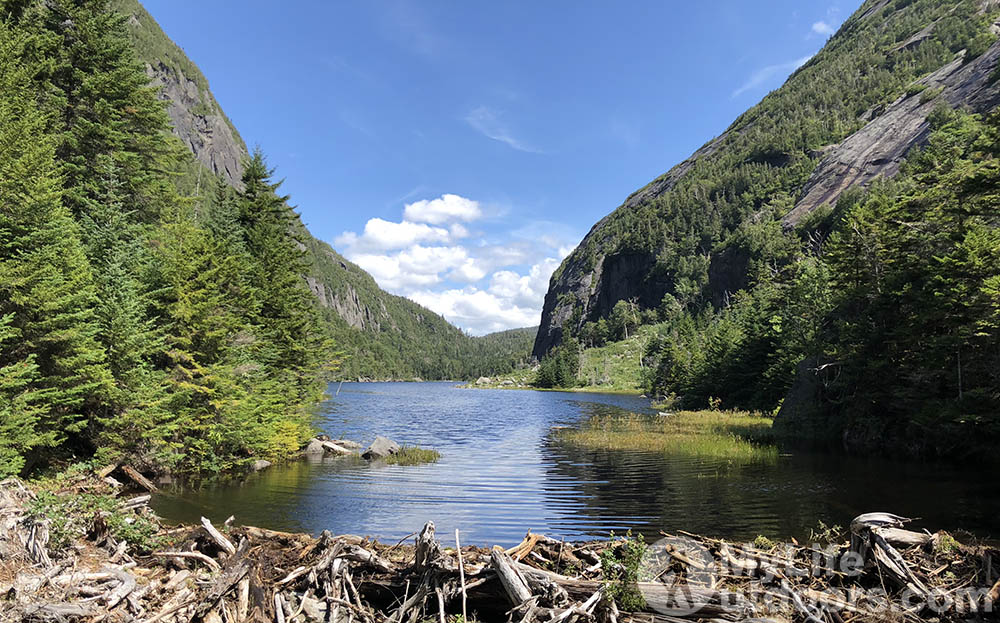 So when my wife and I took an epic road trip from Texas to Maine…I went looking for a good overnight trip to take and see what the East had to offer. What I discovered is the East is no walk in the park.
At least not in the Adirondacks. I'm not sure if it is the age of the trails (before trail design was a thing) or if it was the mountains themselves. All I know is my wife and I struggled more than we would have liked.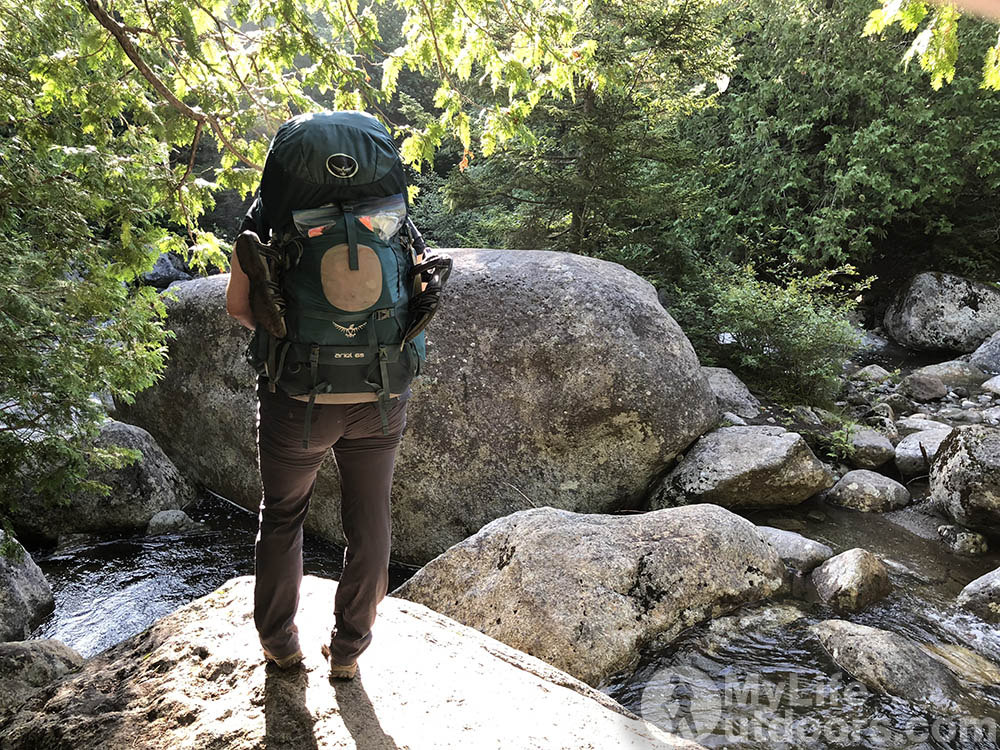 Our original plan was a short leisurely 3 day hike hitting four sub alpine lakes and a high point that looked promising on paper. We started at the Adirondak Loj (Lodge) where we rented a bear canister (having left mine at home). I knew we would need a bear canister from some quick preliminary research. What I didn't know was how seriously the ADK Mountain Club takes their bear canisters. Every ranger, parking lot attendant, and ADK Janitor who saw our overnight packs would accost us asking if we had a bear canister.
ADK Employee: Do you have a bear canister?
Me: Yes
ADK Employee: What color is it?
Me: Its black. I rented it from the ADK Loj.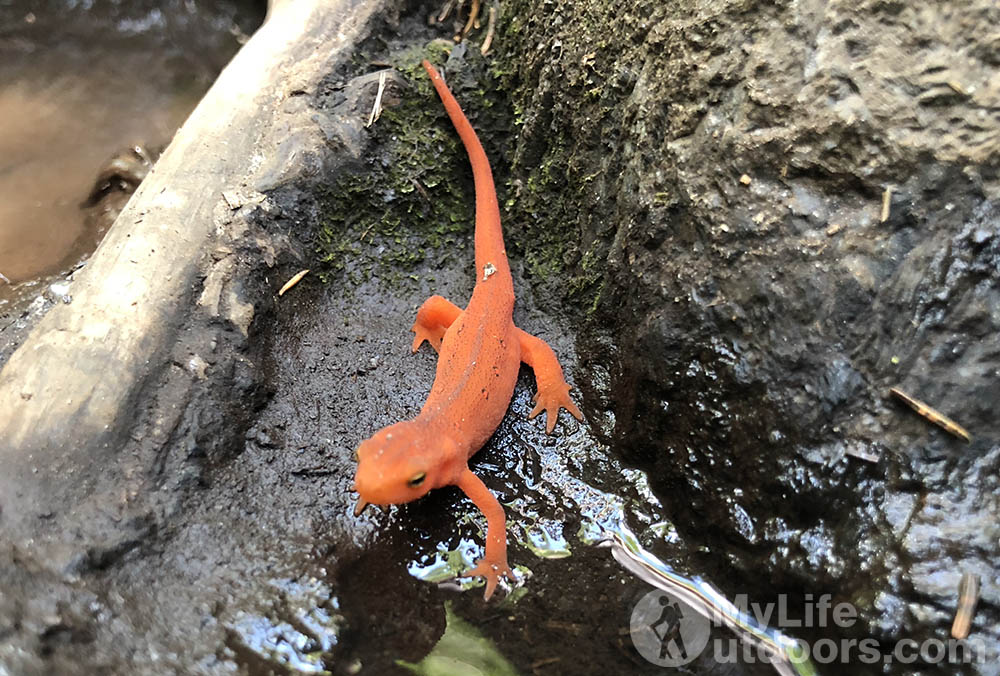 Apparently some Eastern Bears have managed to open the clear screw top canisters forcing ADK Mountain Club to crack down on bear canister compliance. I appreciate their diligence..but after the fifth interaction with the same word for word script it became comical. We commented on how prevalent bears must be in the area and expected to have some exciting encounters. Unfortunately (or fortunately) a bear never even sniffed at our canister much less us.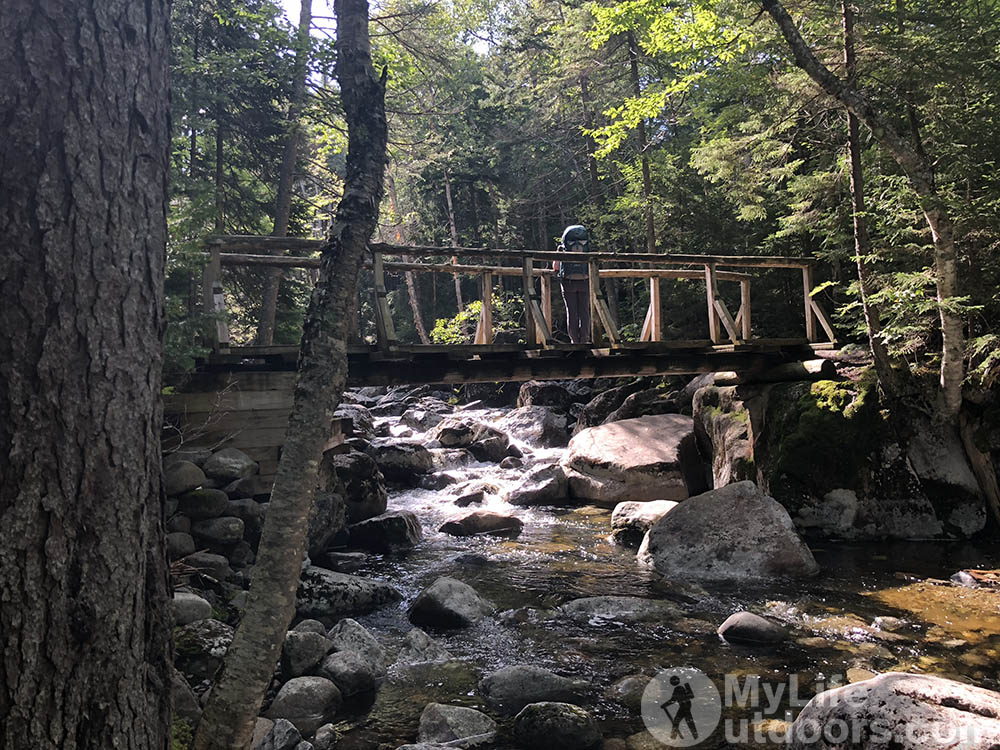 We headed South from ADK Loj toward Avalanche Lake planning to camp at the designated sites on the far side of the lake. I have seen pictures of Avalanche Lake online and was excited to see it for myself. A couple of miles down past Marcy Dam and up over a moderate pass and we were at the headwaters looking out over the lake. Just another quarter mile or so and we would be at our first campsite.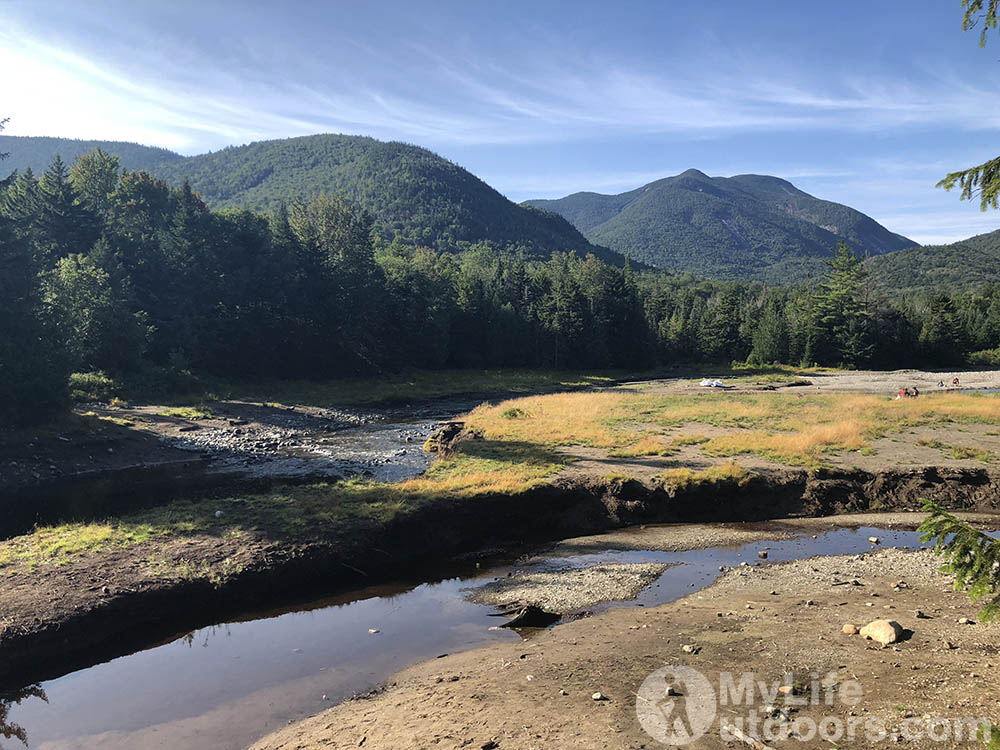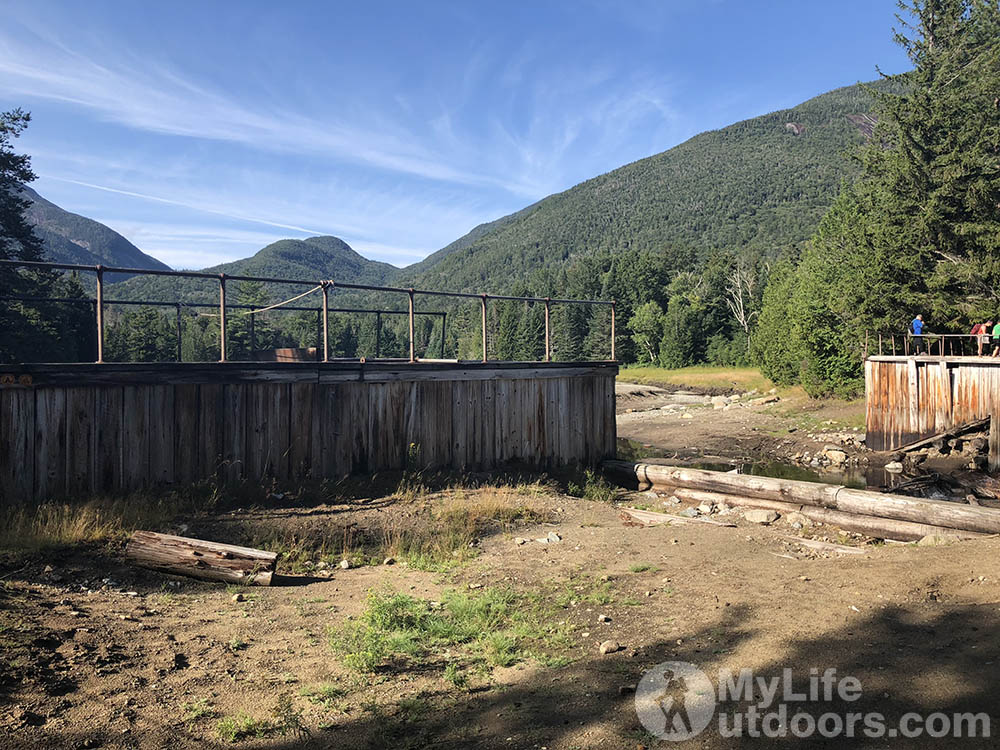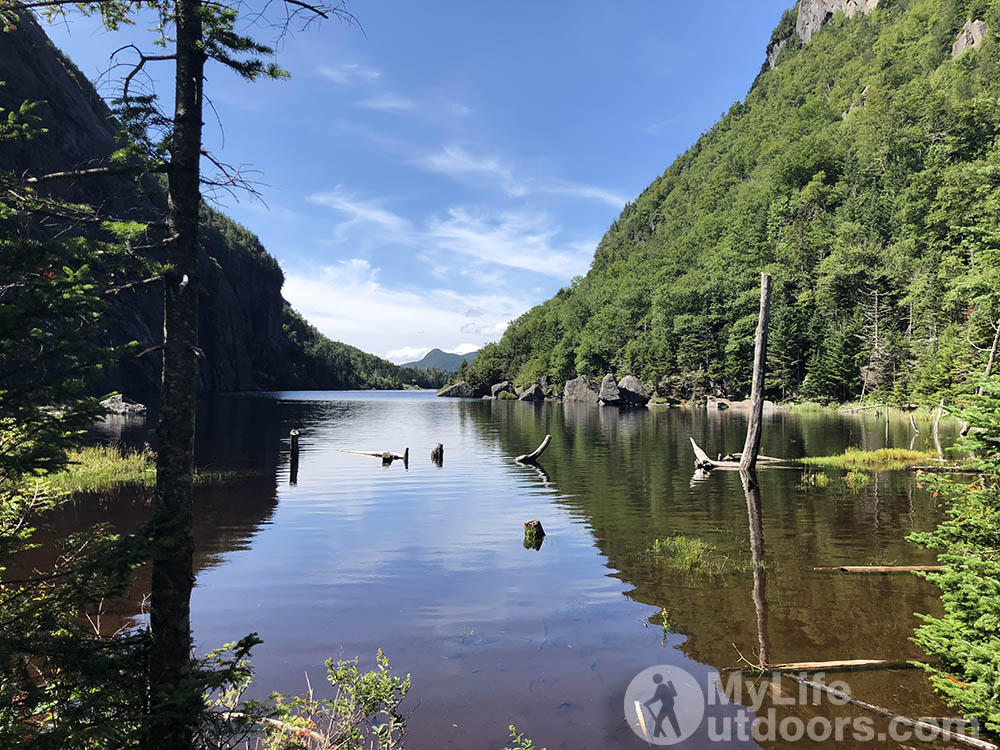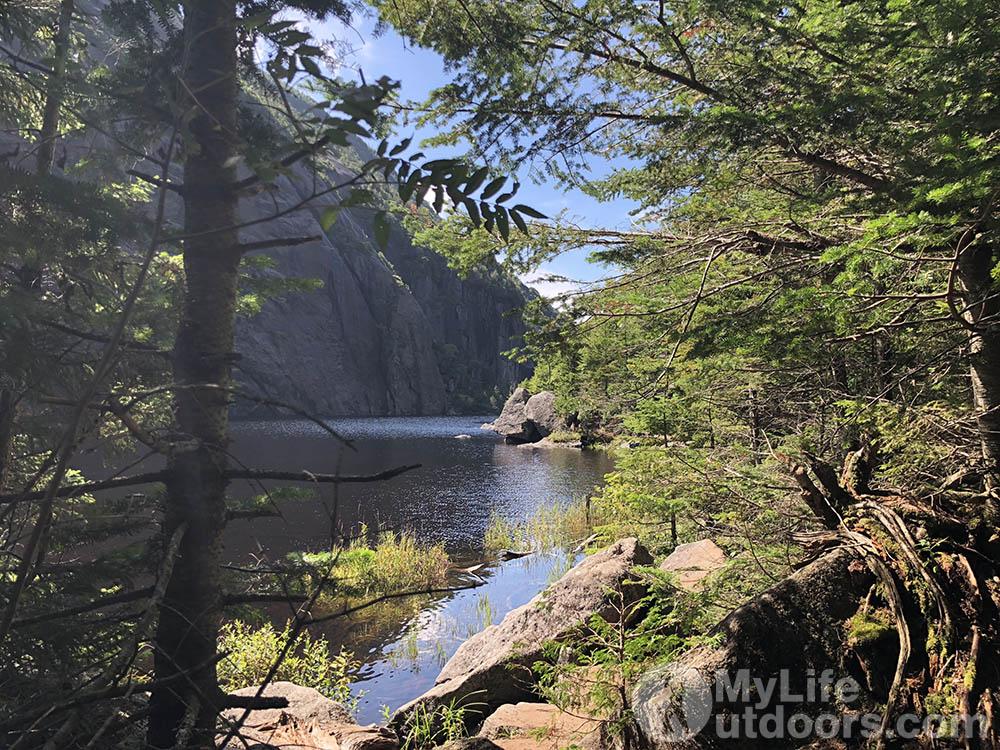 What we didn't know was how difficult the Avalanche Lake "Trail" is. Trail is a generous term as for most of the way around the lake you are walking on elevated wooden catwalks. Climbing up and down ladders, sliding down large boulders, balancing on small wooden platforms suspended high above the rocks. All with a heavy pack. It seems as if the original Trail Blazers saw no need to work with the topography. If they wanted to go somewhere…they were going to make it happen one way or the other.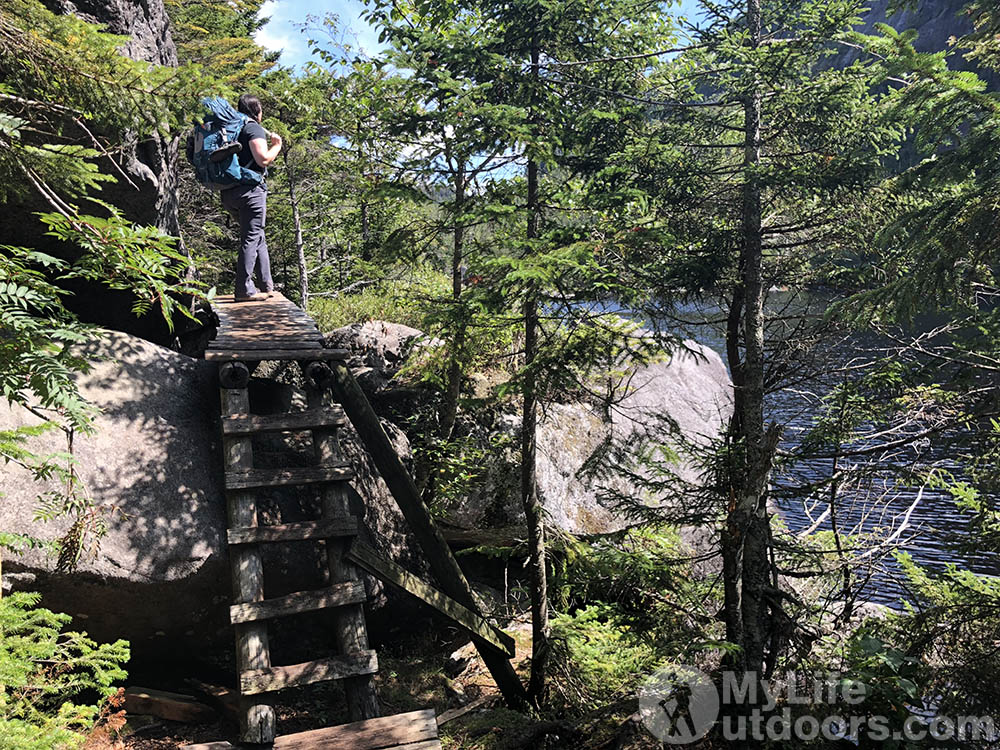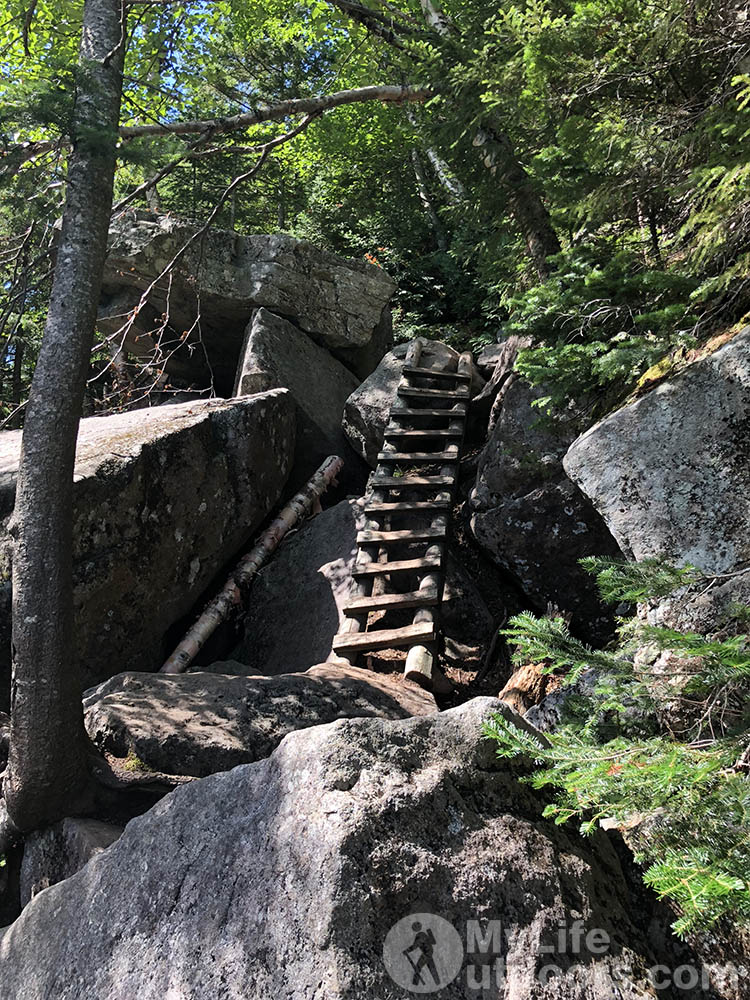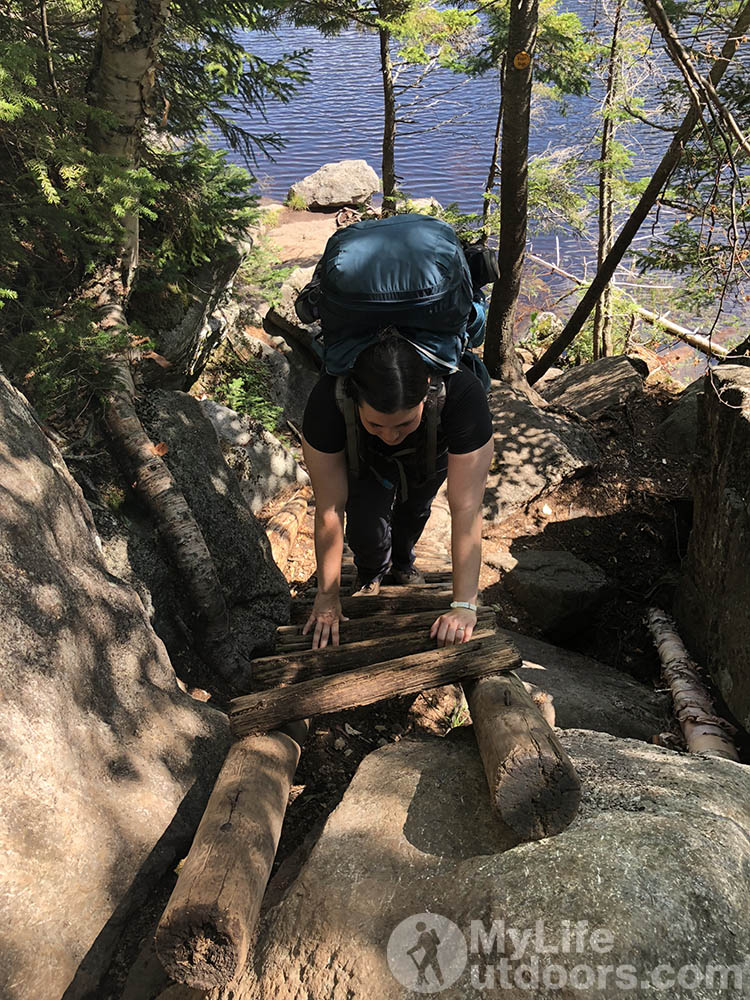 At one point the natural shoreline is completely impassable due to a sheer cliff face protruding directly out of the lake. But this is no problem for the Adirondacks. They simply built a catwalk bolted directly into the rock suspended above the water. This is something I have never encountered in the West but seemed prevalent (as you will see) in the Adirondacks. In the west trail designers would simply say "you can't go that way" and leave it at that.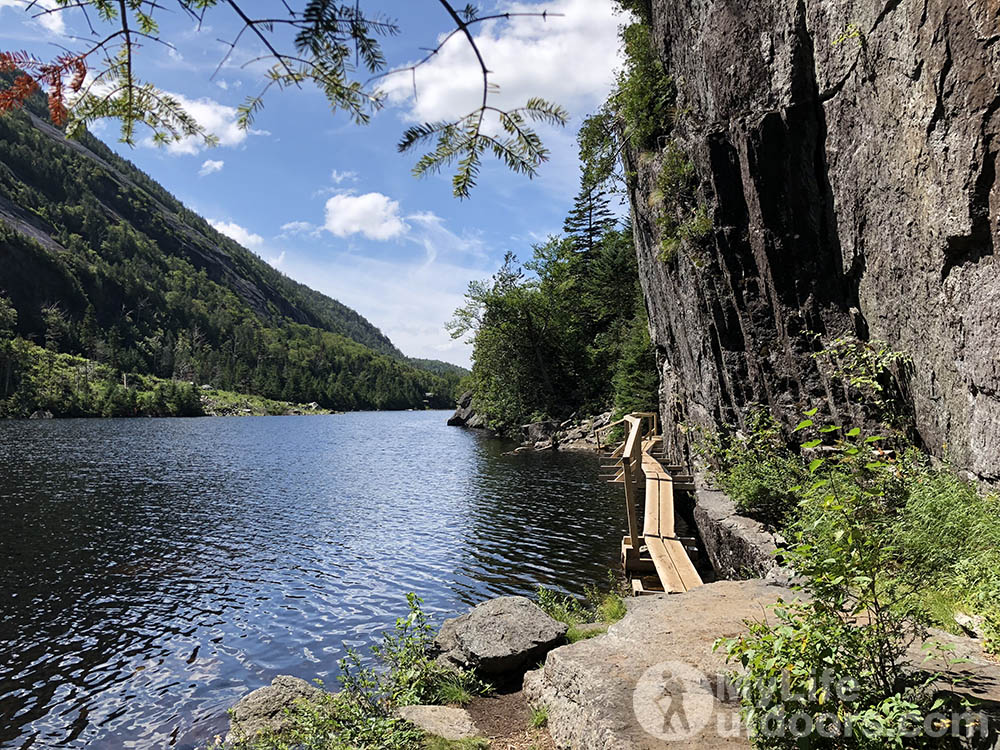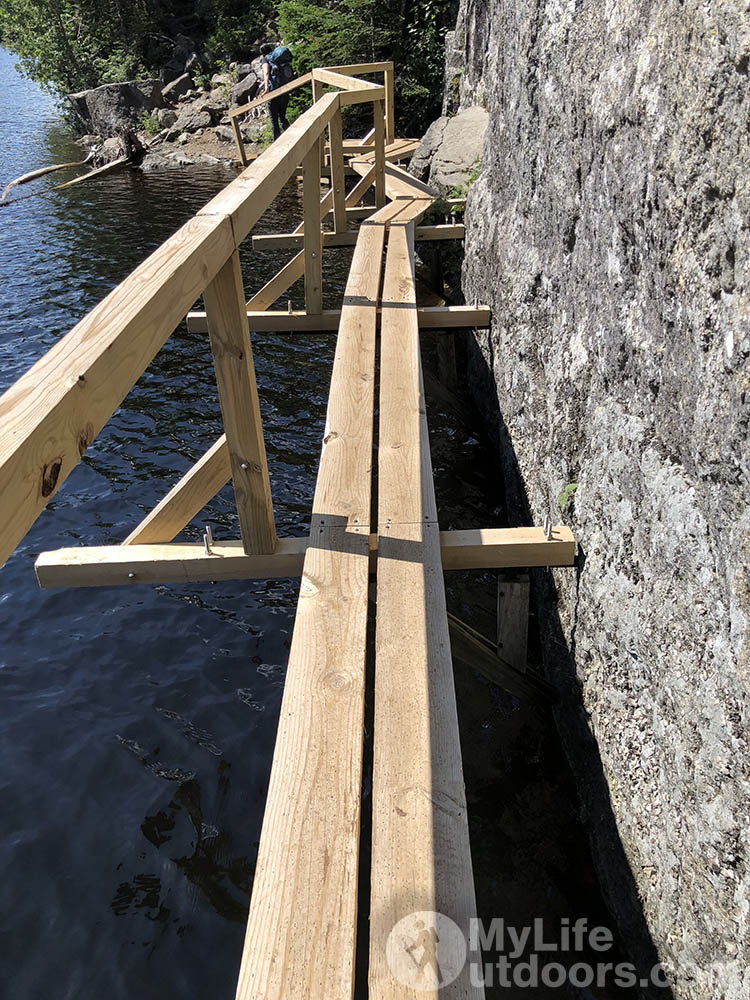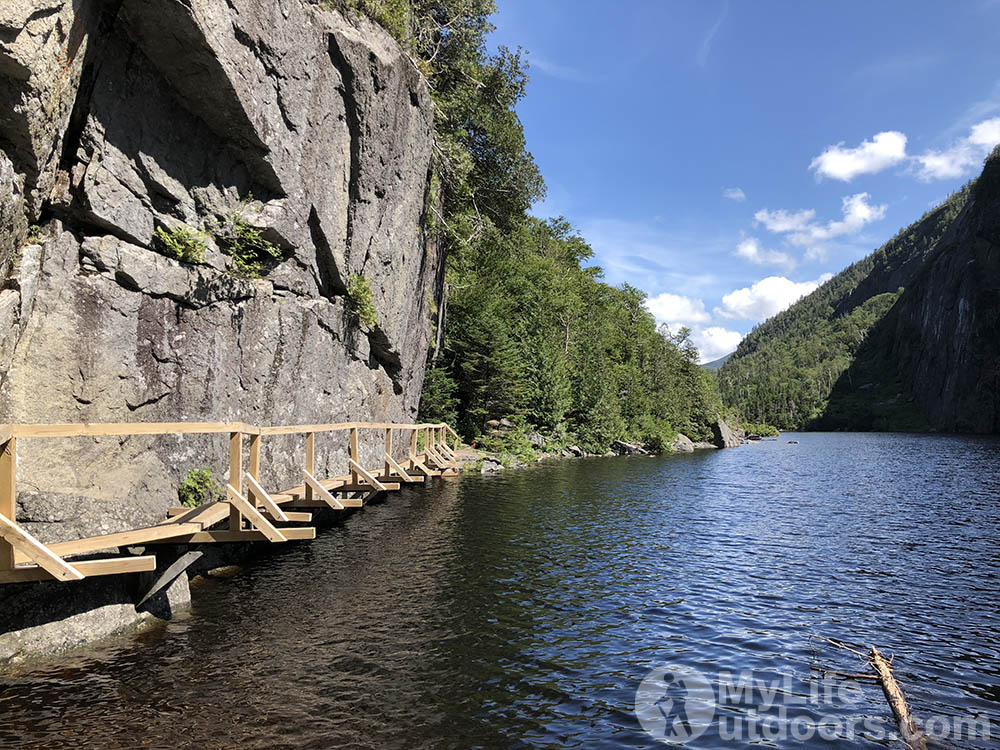 At another point there was a gap in the trail/catwalk system that required a four foot leap across the water. And not just a shallow little pool you mighty wade through. This was deep "I can't see the bottom" lake water. My wife was less than trilled to make the leap especially with a heavy pack, but at this point there was no turning back. I went across first, jumping from a small boulder in the lake across to a wooden catwalk. I positioned myself to catch my wife if she overshot. She stood on the small boulder, just large enough for one person. I stood the catwalk waiting to catch her. After a few minutes of calming her nerves she made the jump with no problems. It seemed the worst was behind us…until we realized…we have to go back this way. The only problem is going the other way will require us to jump form the catwalk to the boulder. The boulder that was only big enough for one person with open lake beyond. If either of us overshoots…we will be going in the water.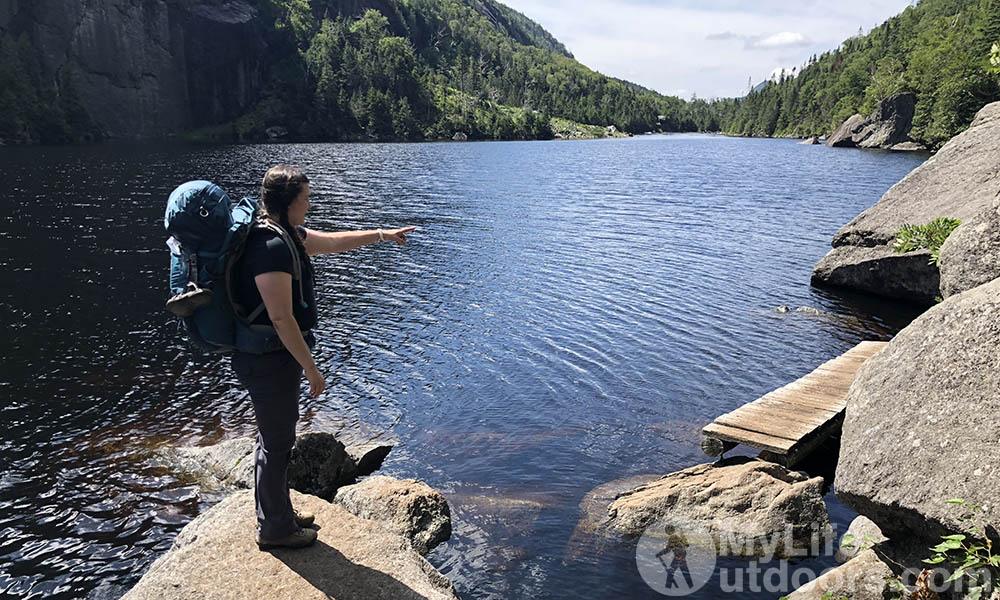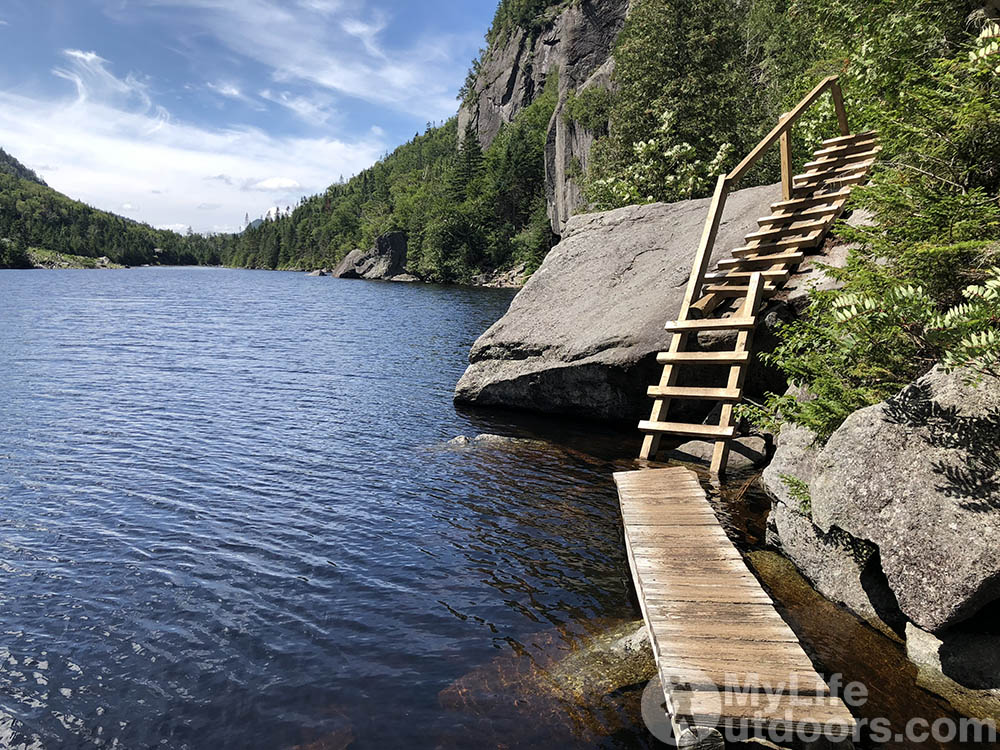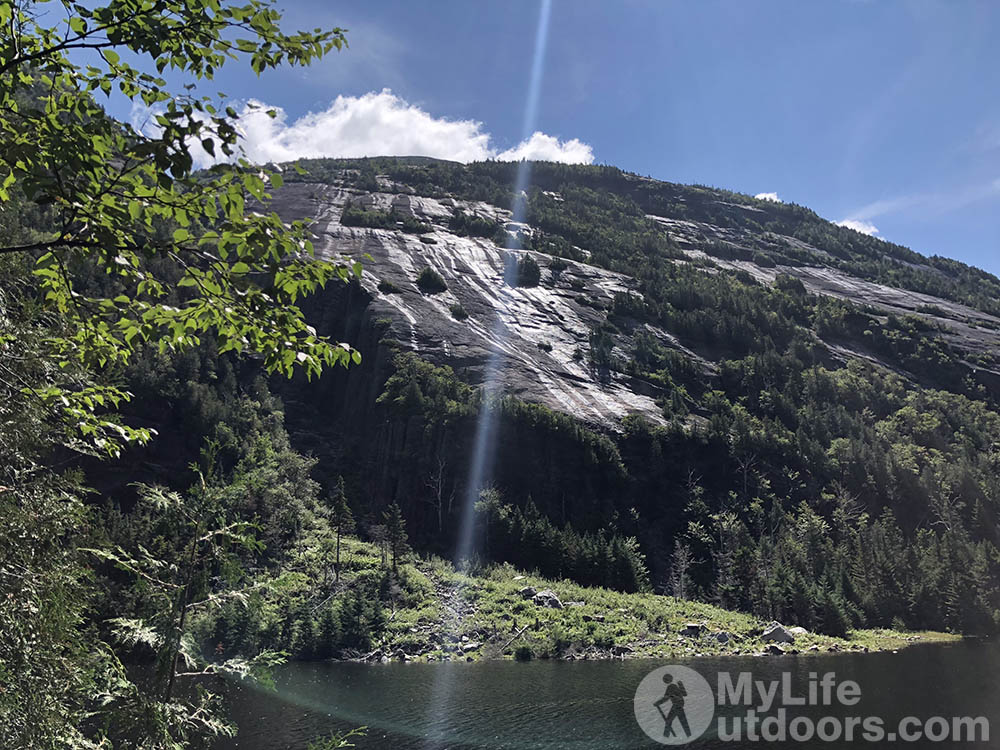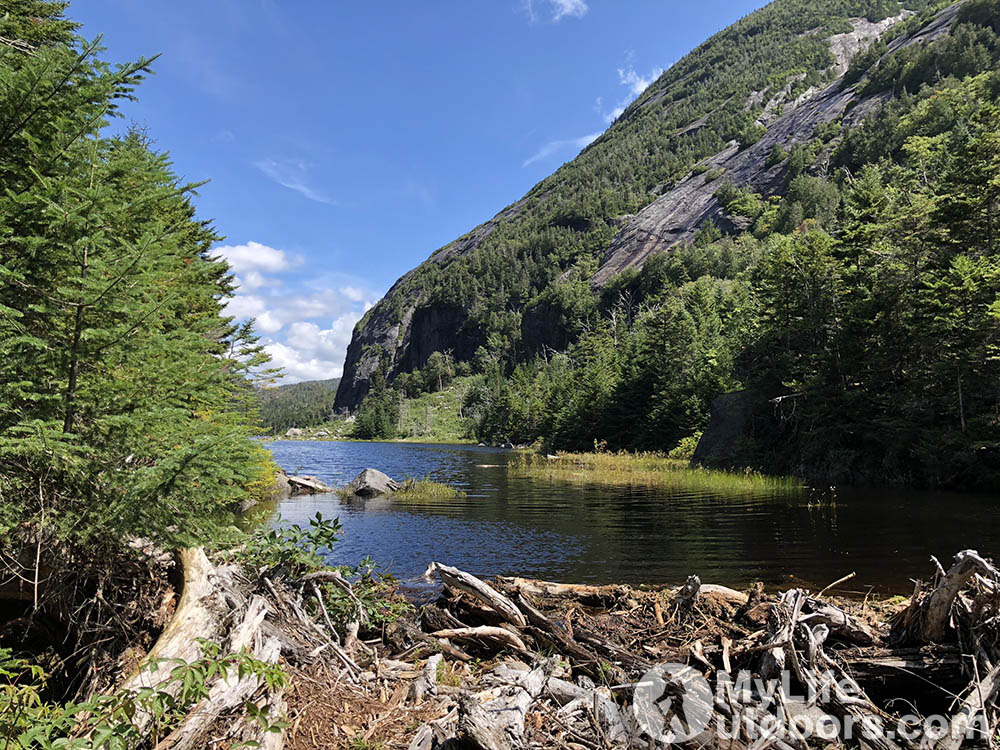 We talked about it that night at dinner and decided there had to be a better way. Not just because of the jump…but the entire trail around the lake was a brutal experience. We decided to change our plans and find another way around the lake or risk going in. That night at camp we looked at the map and found another way. It would add miles and a higher pass…but it couldn't be as hard as the Avalanche Lake Trail. Little did we know…it would be worst. 
To be continued…
---
Adirondacks Avalanche Lake Resources