This is Day Two of our Five Day Backpack in Glacier National Park. Click here to read a report on Day One.
I'm lying down, face up, on the rocky shore of a remote alpine lake. Nearby I hear the sound of water falling 1,500 feet into the cold, turquoise, lake . For now the sun is warm, the breeze is welcome, and I believe I have found heaven on earth.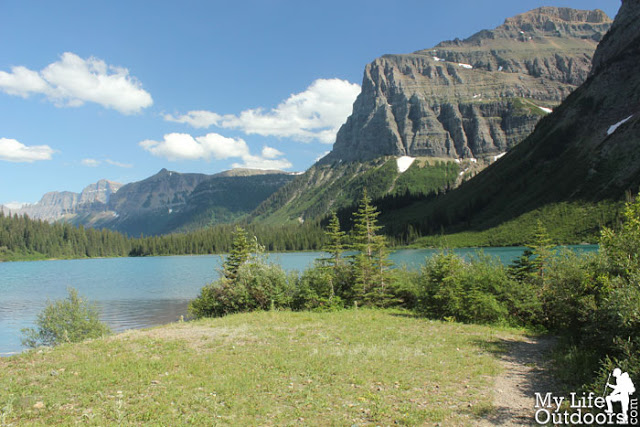 My first view of Lake Francis
It is the end of our second day in Glacier National Park's Backcountry. My wife and I have arrived at Francis Lake. We have relieved our sore feet from the confines of our boots, and are content to do nothing but rest. Before now I had no idea any such place could exist…maybe it's just the exhaustion from the day…but this, I think, could be the most beautiful place I have ever been.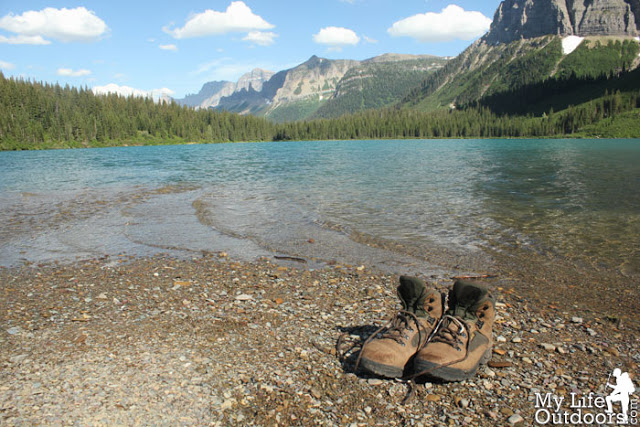 Earlier the same day our guide lead us a short distance to the top of Rainbow Falls on the Waterton River. Not too bad…its more of a cascade then a waterfall but if rainbow falls existed in Texas…no doubt a state park would be built around it. As for Glacier…it is hardly a waterfall at all.
Standing at the top of Rainbow falls I wonder if I would see any more waterfalls on this trip? I ask our guide about future waterfall viewing opportunities. All he says is "just wait until you get to camp tonight." I can't wait…lets get moving.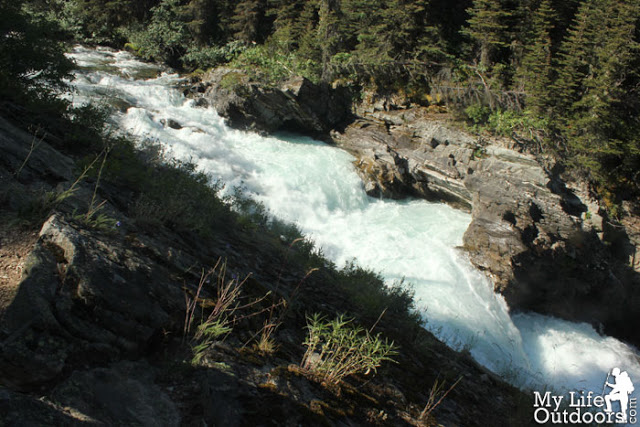 Rainbow Falls
The hike to Francis Lake is "boring" according to our guide. "Its all trees with no views." I can't remember how long he has been hiking in Glacier's Backcountry… but If I remember correctly it is somewhere around 45 years. It is obvious he has been spoiled to its beauty. Some 1,500 miles away in West Texas trees are a rare commodity. Living there has given me an appreciation of all things, wooded, hilly, and wet no matter how "boring" they may be. I am happy to be hiking in the woods views or no views.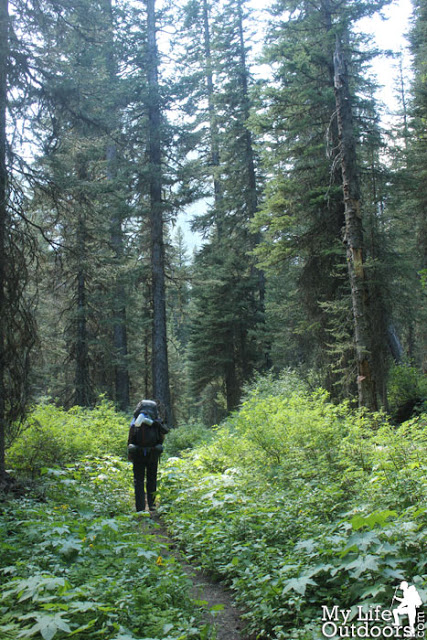 Hiking up to Francis Lake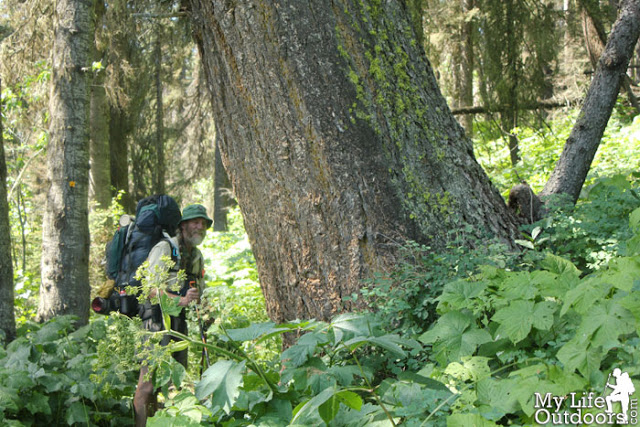 Our Guide next to a huge Western Hemlock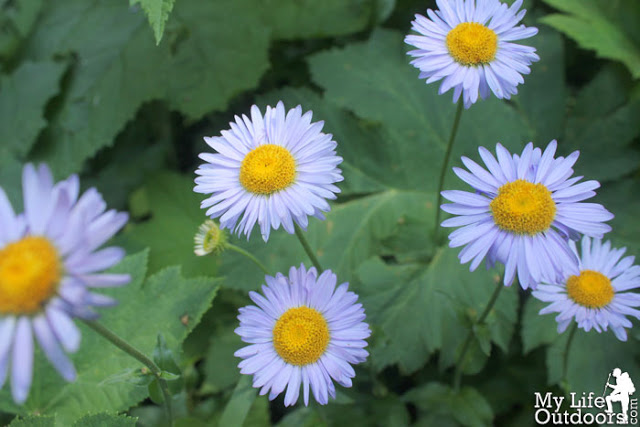 Some unknown (to me) flowers that my wife really liked
Before long our guide points out a pink flower he calls "Fireweed." The flower is beautiful but that is not why he has stopped to tell us about it. Rather, when fireweed is blooming, somewhere Huckleberries are ripening. I try not to get my hopes up…it seems anytime I am in a place with wild edibles…I'm there in the wrong season. But not this time…within a mile we have found some wild Huckleberries. I can't believe my luck. I carefully select a handful of berries and pop a few in my mouth. It reminds me of a blueberry but tart. Which suites me just fine because I have always found blueberries a little on the bland side. We continue down the trail with me lagging behind picking Huckleberries.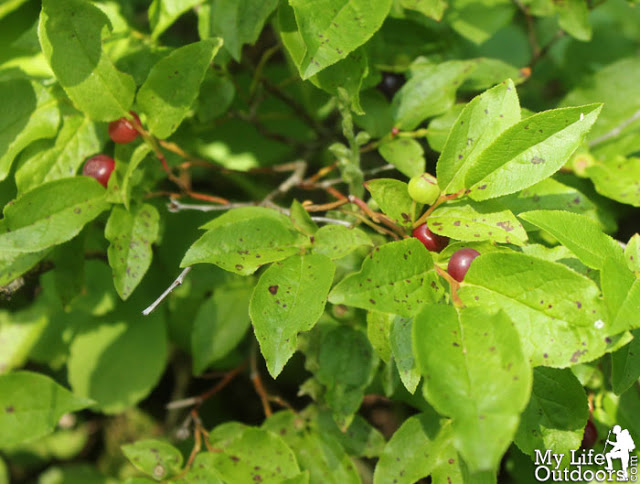 Wild Huckleberry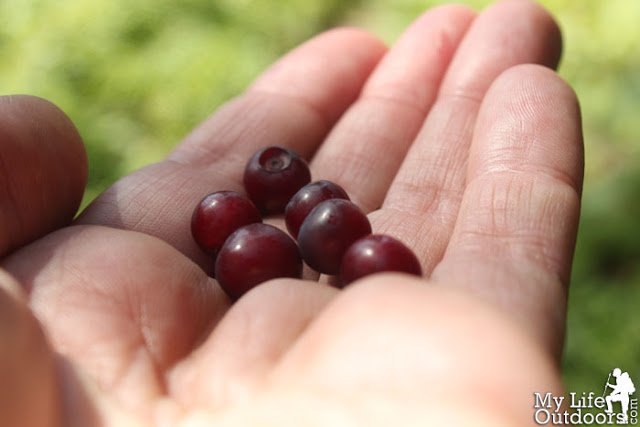 Wild Huckleberry
Three miles into the hike we arrive at Janet lake and stop to eat lunch. The water in lake Janet seems so inviting and it is just warm enough to think about swimming…I know the water is freezing…but I can't help myself. I take it slow and begin by just wetting my feet a little. The water is so cold its painful. Maybe I won't be swimming today after all. Instead I rejoin my wife and guide for some cheese, crackers, and beef jerky before getting back on the trail.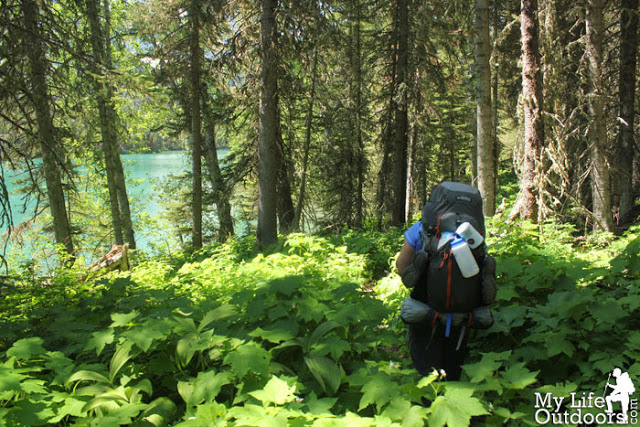 Coming up on Lake Janet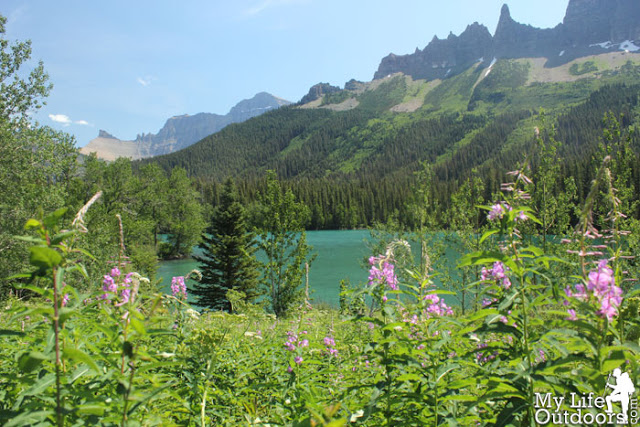 Lake Janet with some Fireweed in the Foreground
As we begin to approach Lake Francis I can barely make out the towering waterfall through the trees. The trail passes high above the camp and we have to turn off and head down a few hundred feet to the campsites. We stop at the food prep area first and drop off our food. We aren't there for more then a minute when the mosquitos find us and they are relentless. I put on everything I own…jacket, gloves…just to keep them at bay. Thankfully our guide is watching out for us and has brought along two extra head-nets. It's the only way to keep them off you. We leave the food and drop off our tent and sleeping gear at the tent site before heading down to the lake.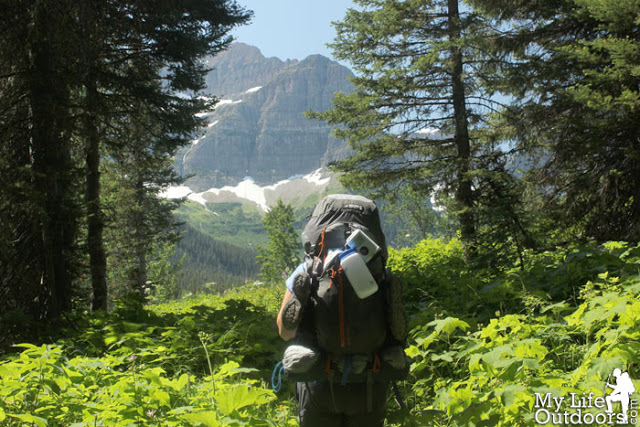 Its another 100 feet decent, at least, to the Lake…mosquitos following us the whole way. We pass through some high brush before rounding the corner to our first good view of the lake. A small breeze picks up and is just enough to drive the mosquitos away. I can't believe my eyes….Lake Francis is beautiful. Everything combined made it the perfect pay off. Tired from the hike…annoyed by the mosquitos…the day cooling off enough to make the direct sun pleasant. Everything came together in a single beautiful moment. I lay on the beach with my wife. We both agree…this is heaven on earth.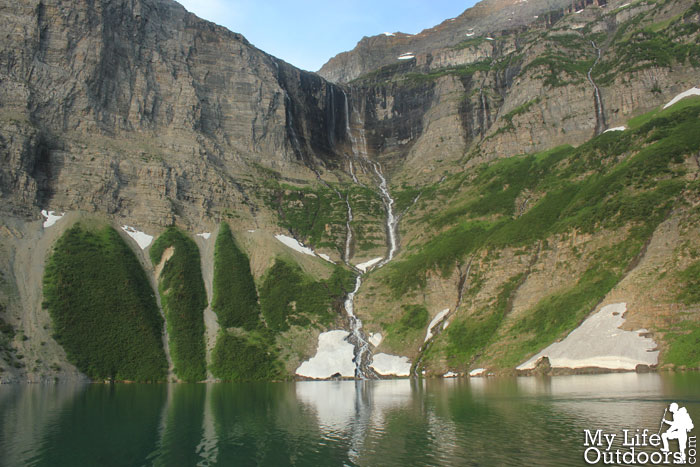 Lake Francis and Dixon Falls. This picture doesn't even begin to do it Justice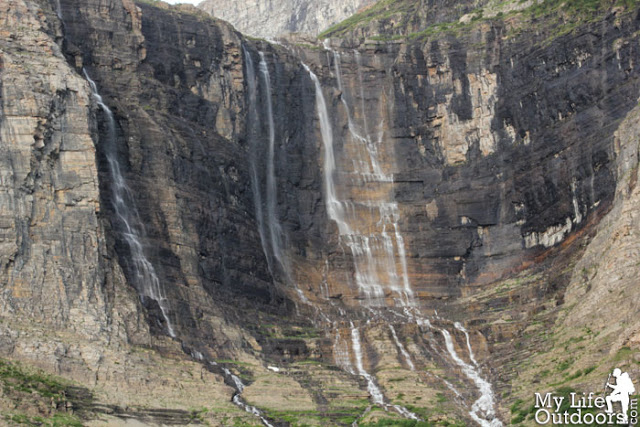 The Top of Dixon Falls fed by Dixon Glacier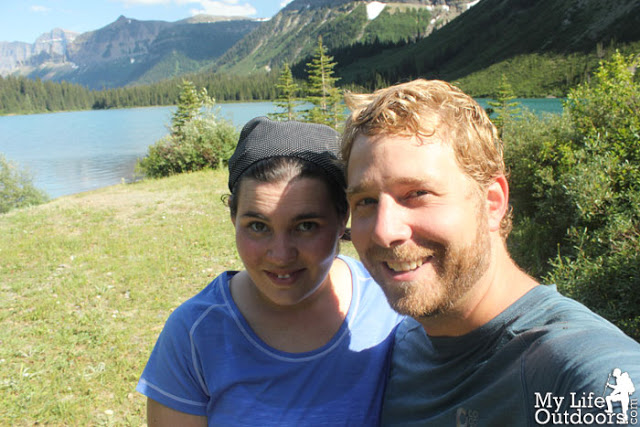 My wife and I at Lake Francis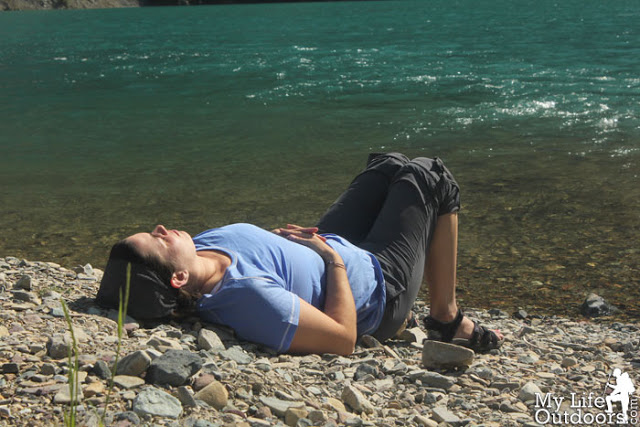 Laying in the Sun on the shore of Lake Francis
The Hike:
Start: Goat Haunt Ranger Station
Stopping point: Lake Francis
Starting Elevation 4199 feet
Ending Elevation: 5384 feet
Elevation Change: 1185 feet
Distance on Day Two 6.3 Miles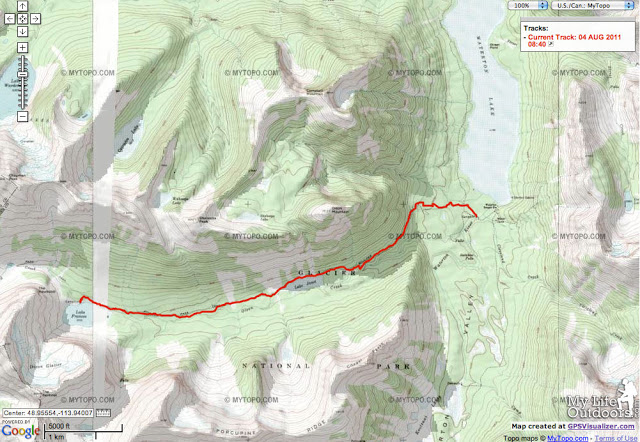 Our Path on Day Two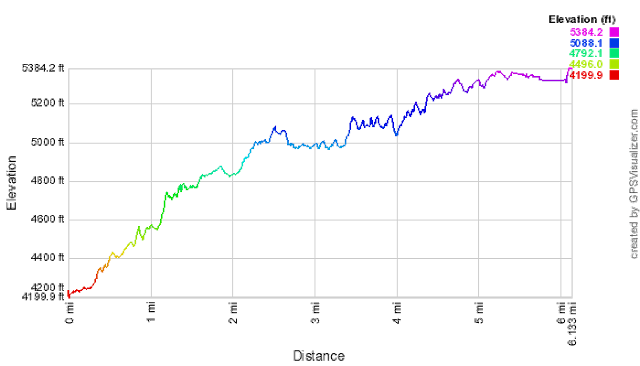 Day Two Elevation Profile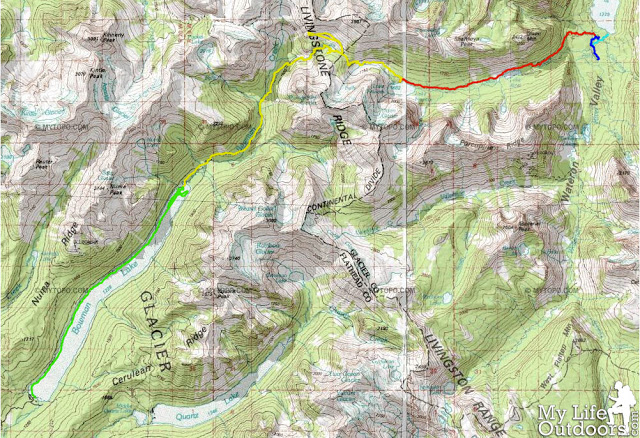 Our Trip over the 5 Days. Blue = Day One, Red = Day Two, Yellow = Day Three, Green = Day Four and Five
Resources:
Glacier National Park Guide Book:
Related Posts:
Did you like this post? Please share it with your friends!
Tweet