When planning a backpacking trip, how do you make sure you have everything you need? Most backpackers rely on checklists. Weather it's on paper, from memory, or printed on a tarp. Which is the case with TripTarp: a new Multipurpse backpacking planning tool I recently had the pleasure to review.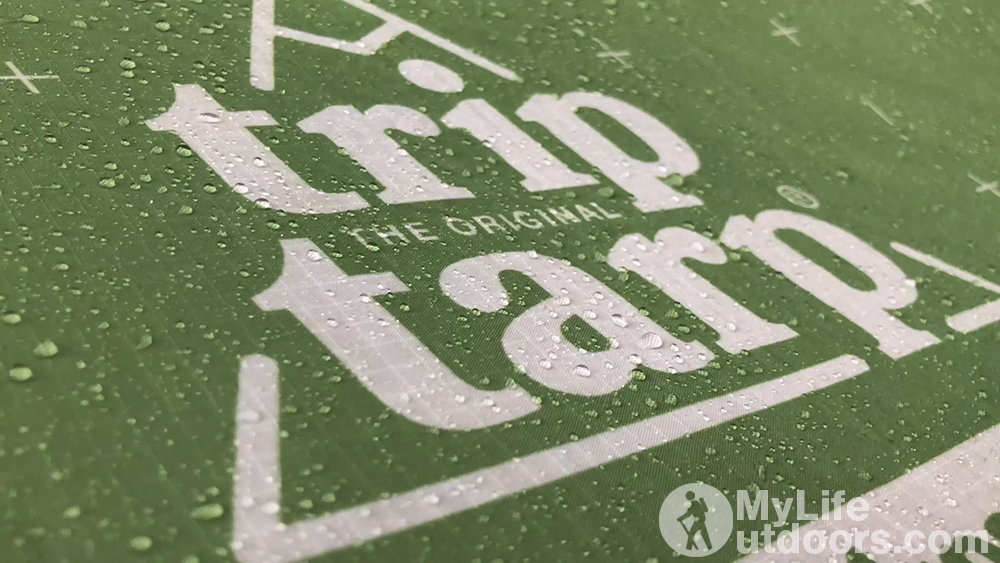 Basically TripTarp is a backpacking checklist printed on a 5×7 foot tarp. TripTarp is designed to be laid out on the floor in your home and used to sort and inventory gear as you pack.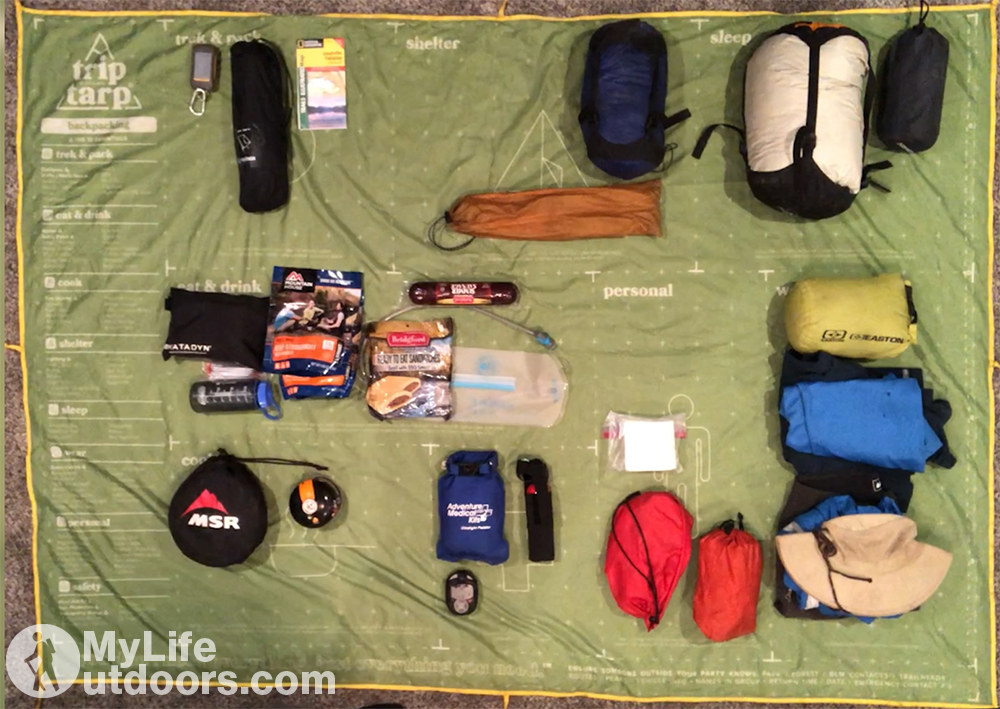 A family comprehensive gear list is printed on the lefthand side of the tarp. While the right hand side has diffrent sections and categories where your gear can be laid out right there on the tarp. This eliminates the need to print or write out a list every time you pack for a trip. There are no checkboxes to check off and no worries you might forget something. You can see in a glance everything you have and everything you might be missing.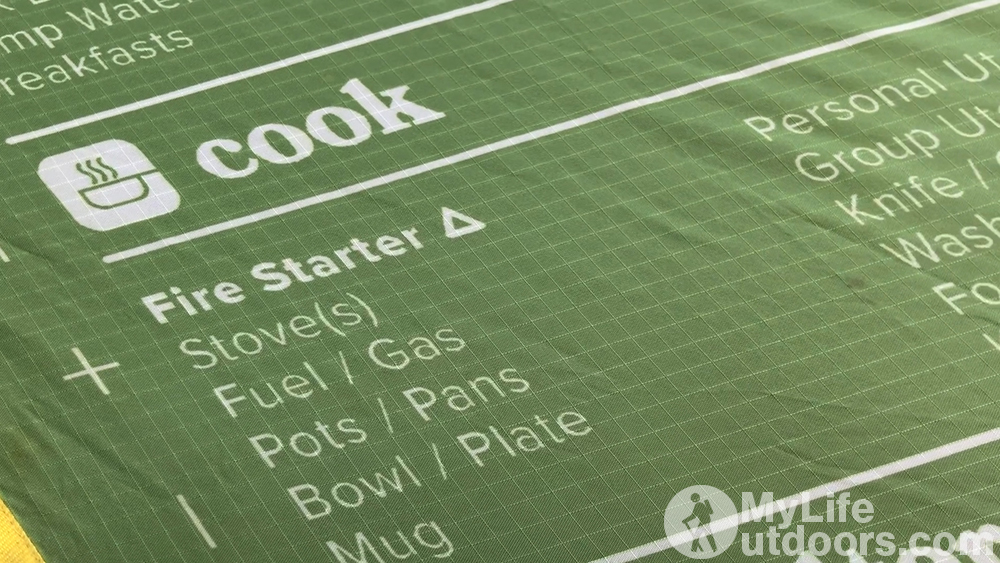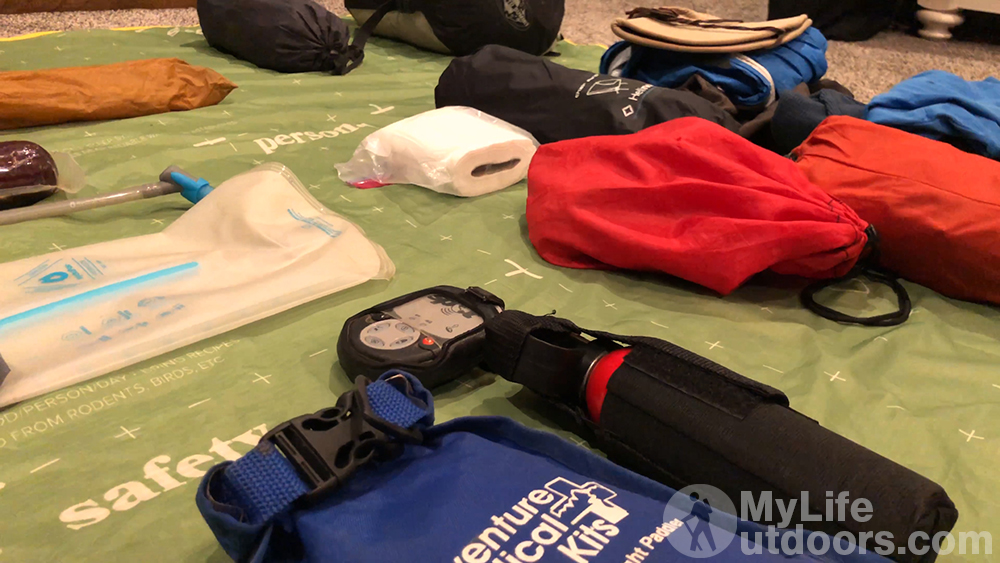 The checklist (curated by professional guides) is based on the 10 Essentials (highlighted on the list) and combined into 8 sections that correspond to the 8 sorting areas on the right. The 8 sections include:
Trek & Pack
Eat&Drink
Cook
Sleep
Wear
Personal
Safety
In my personal experience I found the list easy to use. Very universal and comparable to other backpacking lists I have used in the past. The list is detailed enough that I knew exactly what to pack but broad enough that I didn't leave anything out.
TripTarp as a Shelter
One of TripTarps key features is its multipurpose design. TripTarp isn't just a trip planning tool. It is also a 70D Ripstop nylon, DWR coated tarp. Take it with you on your trip and use it as a shelter to sleep under, over a hammock, or as a rain tarp to cook under when weather gets bad.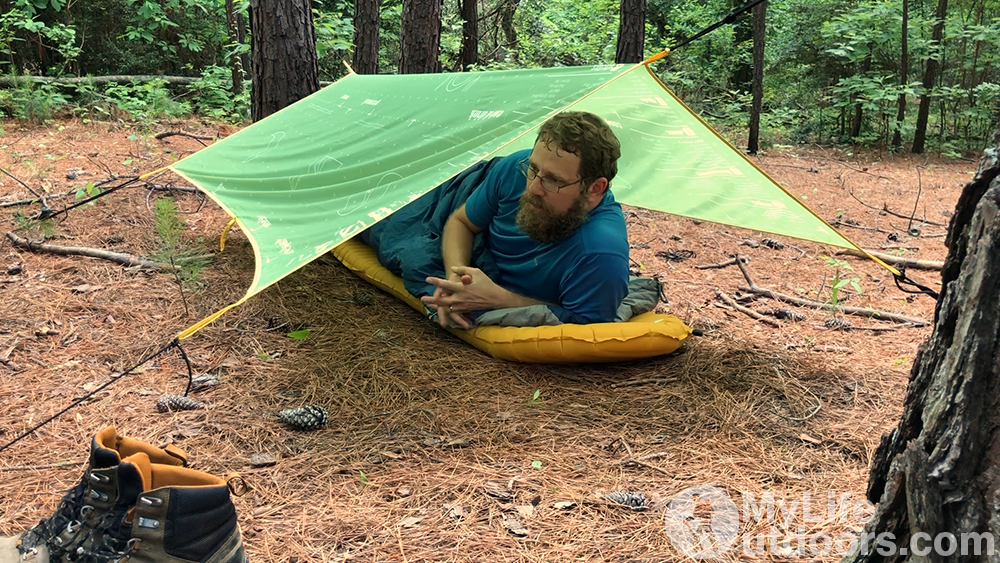 It is the multipurpose nature of TripTarp that I believe causes it to struggle. How do you make a tarp that is big enough to use as a shelter but still small enough to be useful as a trip planning tool.
At 5×7 feet it was difficult for me to find a space in my house large enough to lay the tarp out in its entirety. The tarp is too large to fit on a table and too large to lay on the floor without moving furniture out of the way. I first tired laying it on my king size bed, but the tarp hung off both ends of the bed making either the list or two of the sections unusable. This is a small inconvenience but something I wanted to note.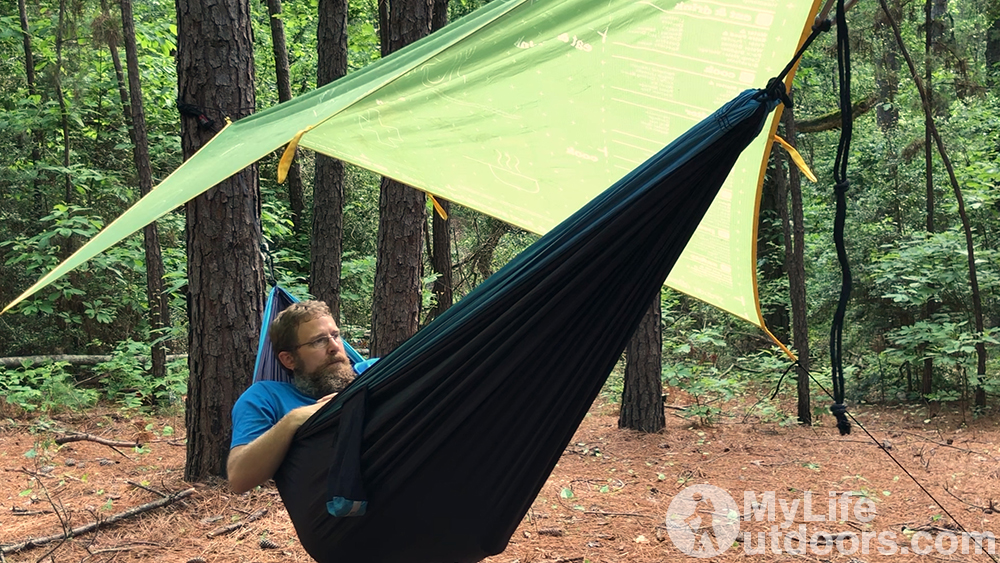 On the other side of things I found 5×7 feet to be a little small to work well as a shelter. I tried setting up trip tarp in multiple ways. I set it up as an A Frame both long ways and short ways. I set it up in a Dimond shaped A-Frame, as well as a lean-to configuration. In each configuration I felt TripTarp was smaller than I would be comfortable sleeping under.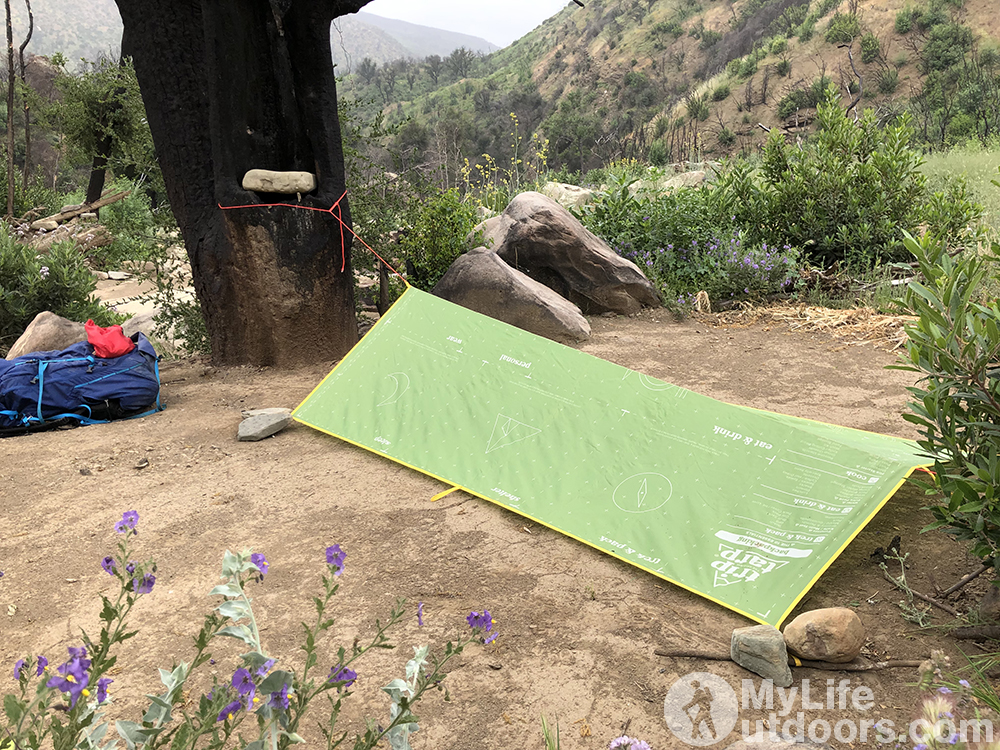 Now I admit I am not a tarp shelter backpacker. I have always used a 2 person backpacking tent (or slept with no shelter at all). I have never used a tarp to sleep under. I do however take a tarp with me every time I backpack. I have a Noah's Tarp 9 by Kelty that I take with me to cook under in the event of a storm.
So in my limited Tarp Shelter experience I believe TripTarp is a little too small to be used as a sleeping shelter. The best configuration I found was a low A Frame set up long ways. This is the only configuration that I felt would keep me dry in a late night shower, but I also found getting under the tarp in the configuration was difficult.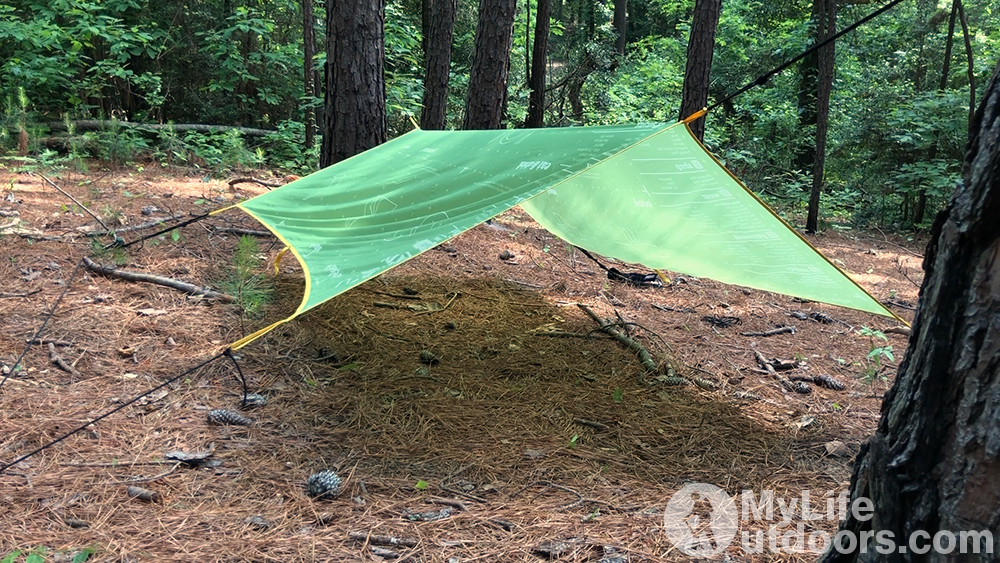 I believe the best backcountry use for TripTarp is as a rain shelter to cook under in the event of a storm. I took Trip Tarp with me backpacking in the Matilija Wilderness in Southern California where it drizzled on me the entire time I camped. I set TripTarp up in a lean-to configuration and was able to sit comfortably out of the drizzling rain (mostly) and cook my dinner.
The first time I set up TripTarp I neglected to bring extra cordage and didn't want to pull up my already set up tent stakes. Even so I was able to set up TripTarp in a number of configurations using my Bear Bag cord. But I was unwilling to cut it leaving my options limited. I believe experimenting with other configurations could make TripTarp even more effective as a cooking (and possibly even a sleeping) shelter. I have since had better success setting up TripTarp with dedicated cordage and borrowed tent stakes.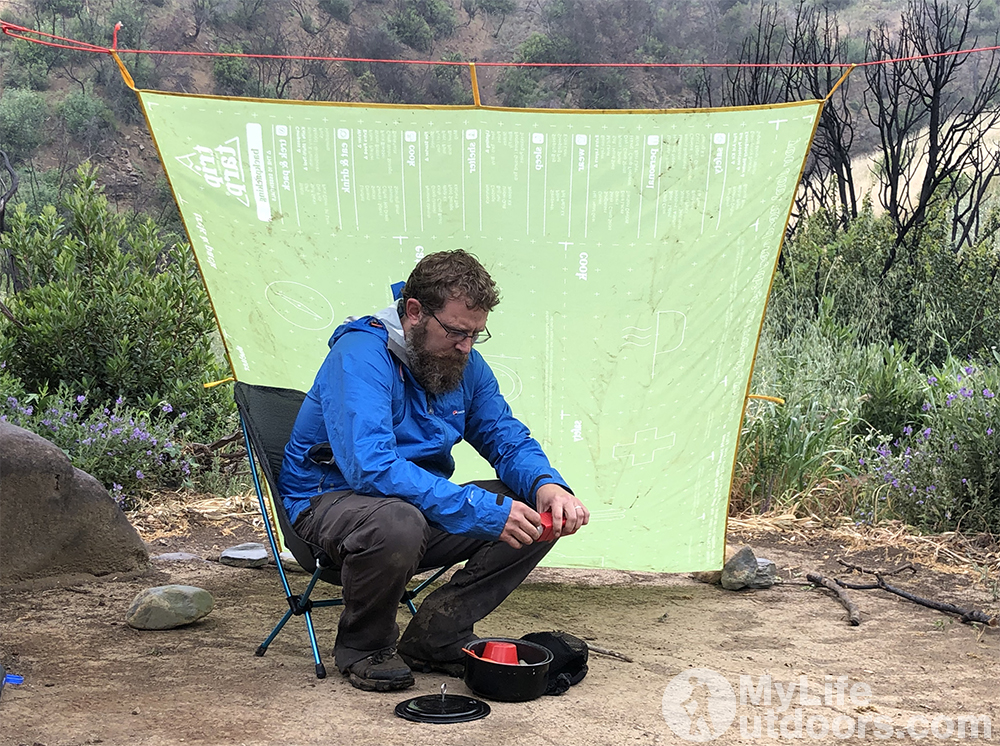 TripTarp by the Specs
Trip tarp is lightweight advertised at 8.6 oz (10.6 oz packed up) which I found to be pretty accurate on my home scale. 9.0 oz (9.5 oz packed up). Packed up TripTarp is about the size of a 20oz bottle when packed. It should be noted TripTarp does not include any cordage or stakes. Both of which are necessary when setting it up as a shelter. (you might be able to get away with no stakes).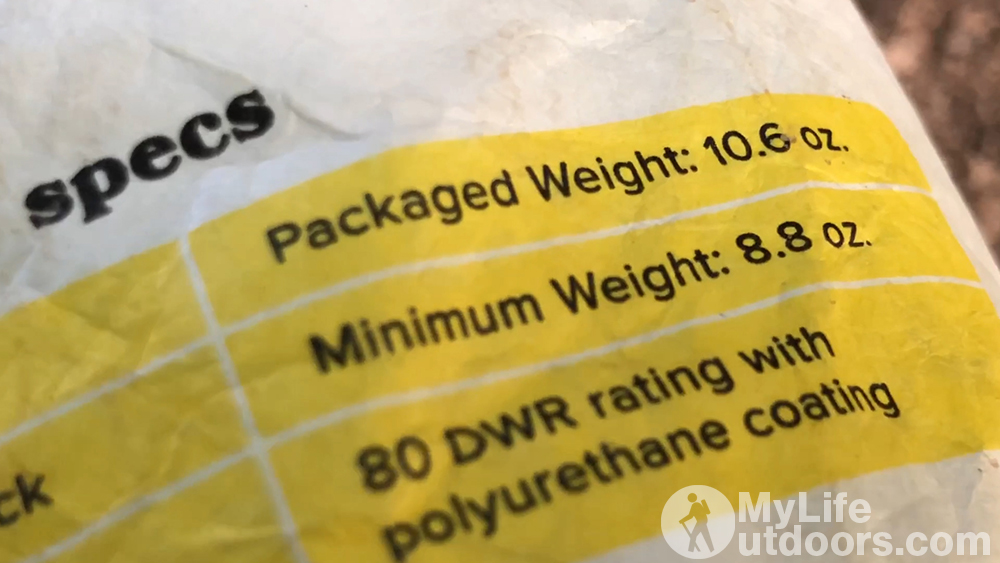 All and all I believe TripTarp is a great idea with only a few minor setbacks. I need to let you know I received my TripTarp for free for this review, but these are my honest opinions.