Look, I know a lot of you use two-person tents like they are one-person tents. But sometimes you want a legit two-person tent, even if it means carrying extra weight.
So, I decided to check out three of the top two-person tents, all redesigned for 2022. They are …
the MSR Hubba Hubba
the Nemo Dagger
and the Big Agnes Copper Spur.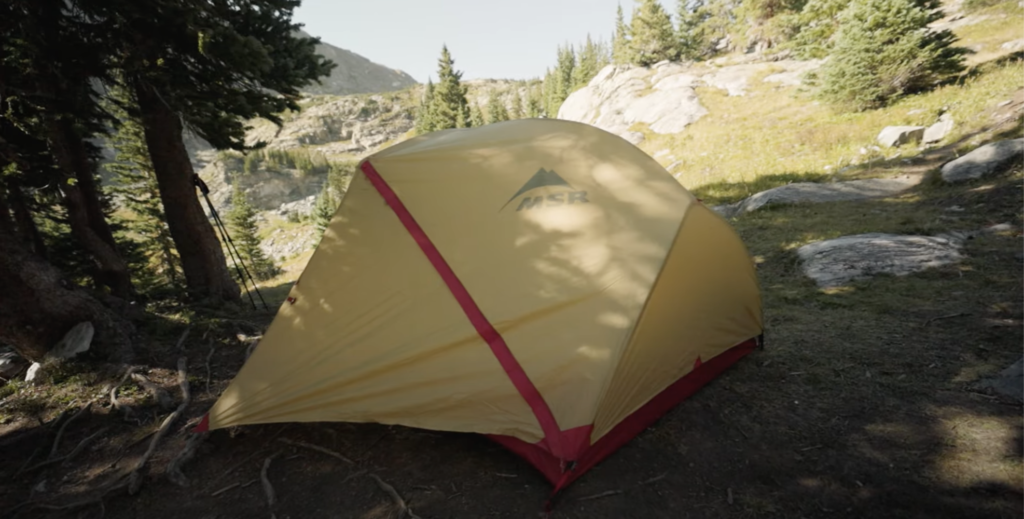 And you know what? These are some nice tents. You can check it all out in my video, or keep scrolling to read more.
All three of these tents are more traditional, two-person, freestanding tents. They are all double-wall tents with two vestibules and two doors. And they all cost right about the same with both the Nemo Dagger and MSR Hubba Hubba coming in at $480 and the Big Agnes Copper Spur costing a little more at $550.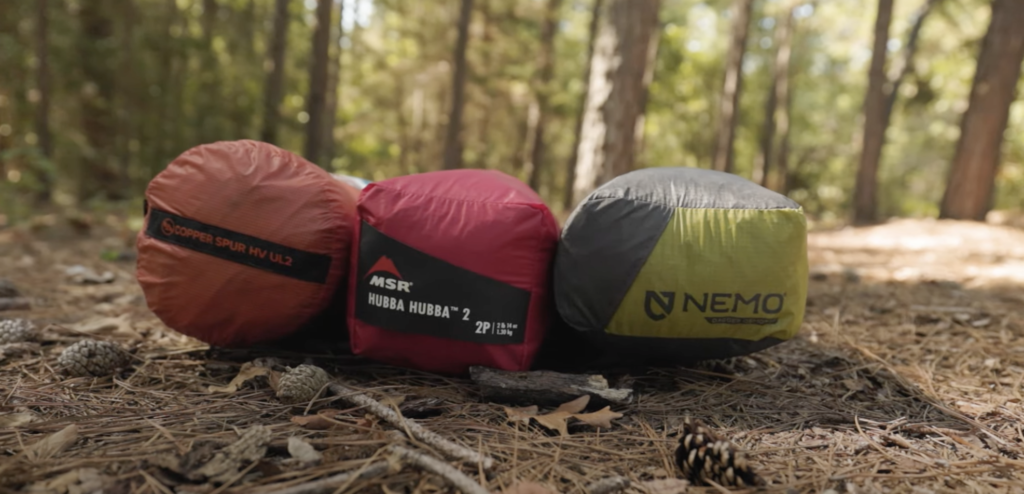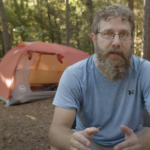 The question is, "What makes the Copper Spur worth $70 more than these other two tents?" Well, best I can tell, it's the weight. The Copper Spur is the lightest tent on this list at 3 lbs., 2 ozs., which is not a light tent, but it certainly isn't heavy either, especially when you compare it to the the Nemo Dagger that weighs in a whole pound heavier—4 lbs., 2 oz.—which is much closer to what you would expect a traditional two-person tent to weigh. Two pounds per person is not bad for weight distribution, which makes the Big Agnes seem all that much lighter.
But then you have to look at the Hubba Hubba, because it is just two ounces heavier than the Big Agnes, and it's $70 cheaper. It makes you wonder why you would pick the Big Agnes.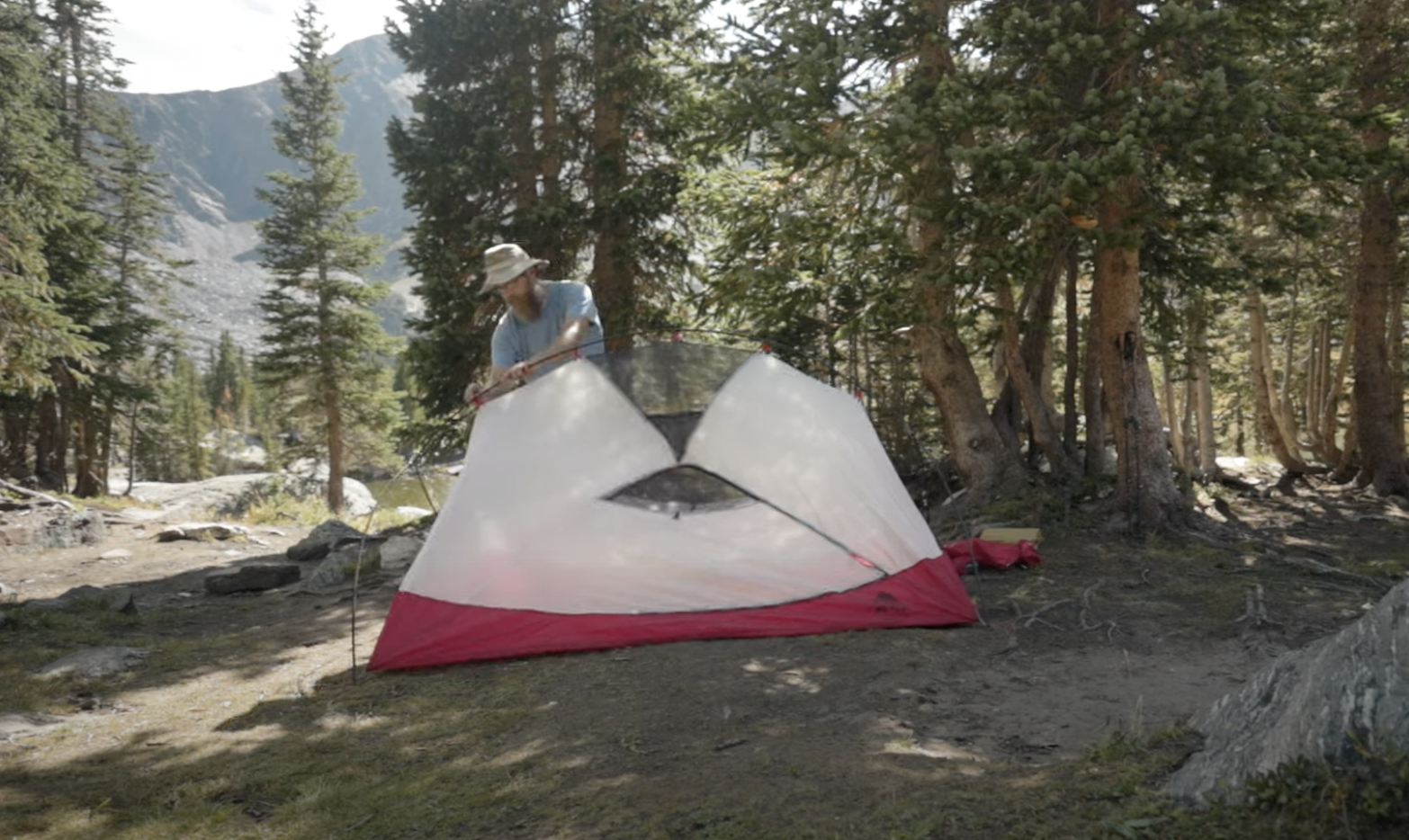 Floor Layout
Ok look, I'm on a kick for 25-inch-wide pads. I slept on a 20-inch pad for too many years, and the comfort that comes from those five extra inches cannot be overstated. I've got a video that talks more about it that right here.
But with 25-inch pads and two people, you need 50 inches of floor space, which a lot of backpacking tents don't have, including the Copper Spur. It's 50 inches at the head, but only 43 inches at the feet, which means if you have two full, rectangular 25-inch pads, they are not going to fit in the Copper Spur.
But they WILL in fit in both the Nemo Dagger and the MSR Hubba Hubba. Both have a rectangular floor that is 50 inches at the head and 59 inches at the feet.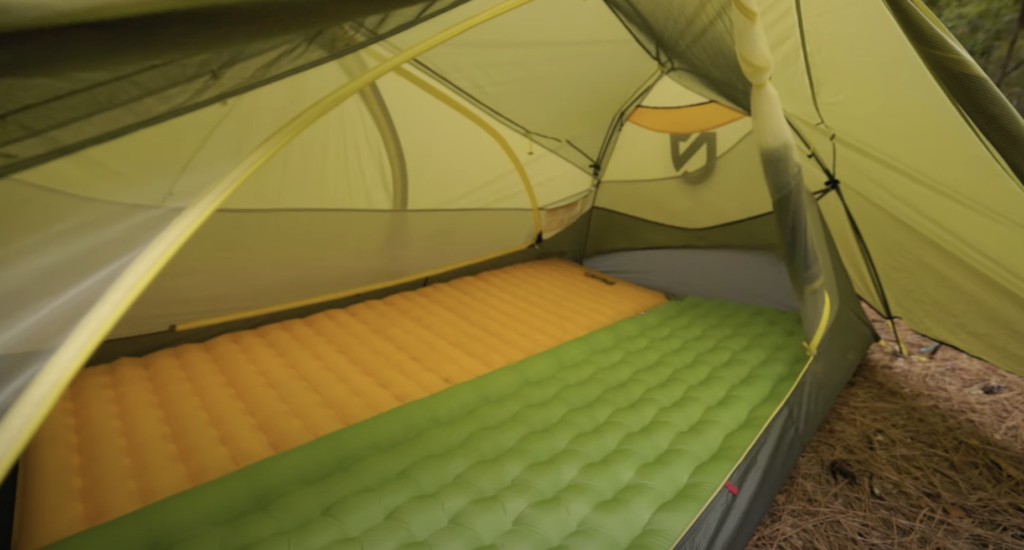 Now you could probably fit two wide mummy pads in the Copper Spur, but I didn't have any handy to check. Even so, I'm telling you, 50-inch floors is where the industry is headed. Which means even though the Copper Spur lighter, it's just not worth the weight savings on a true two-person tent like this.
Headroom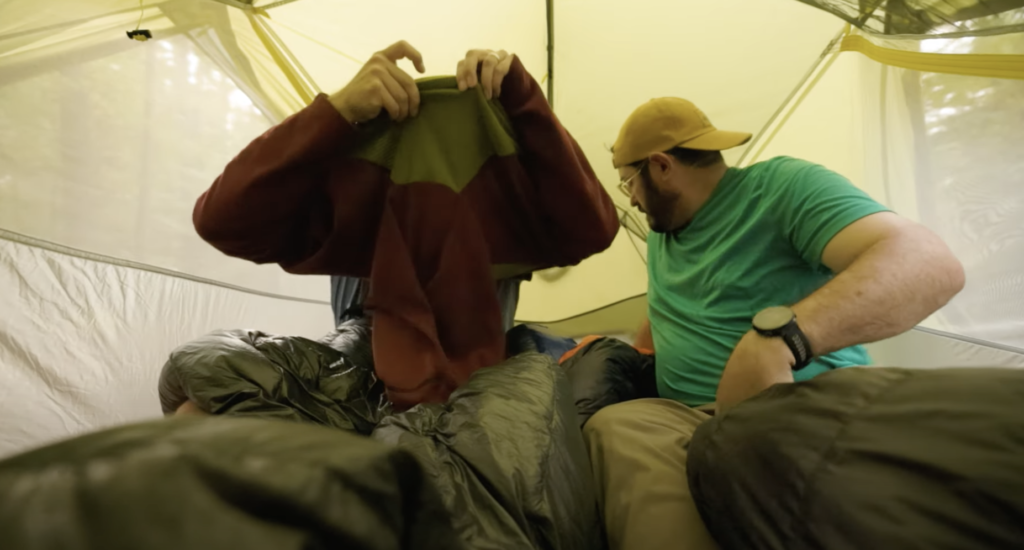 What makes them true two-person tents? For me that's the headroom. Headroom (or lack of headroom) is what's really going to make a tent feel large or small. All tents have the most room near the floor where you sleep, and when you are asleep, space isn't as much of a concern. But when you need to sit up and put on or take off a layer, if the ceiling is more narrow than the floor, it's going feel really cramped in there.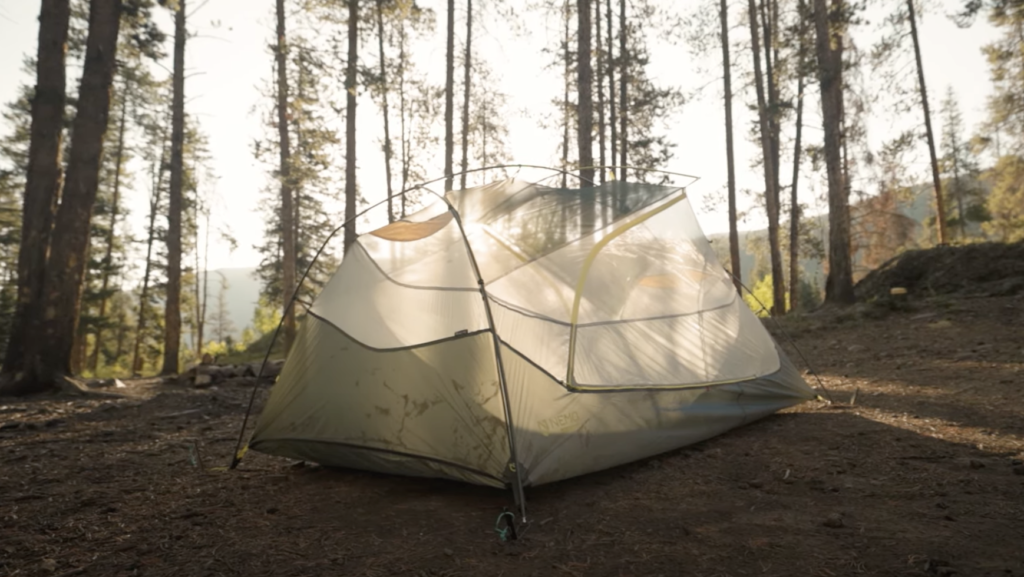 All of these tents have near-vertical walls to give you the room you need to sit up and change clothes with adequate room. And for me, that makes the difference between a two-person tent and a two-person tent that's better suited for just one.
The vertical walls on these tents are provided by the cross beams that extend out to the sides of the tent, opening up headroom.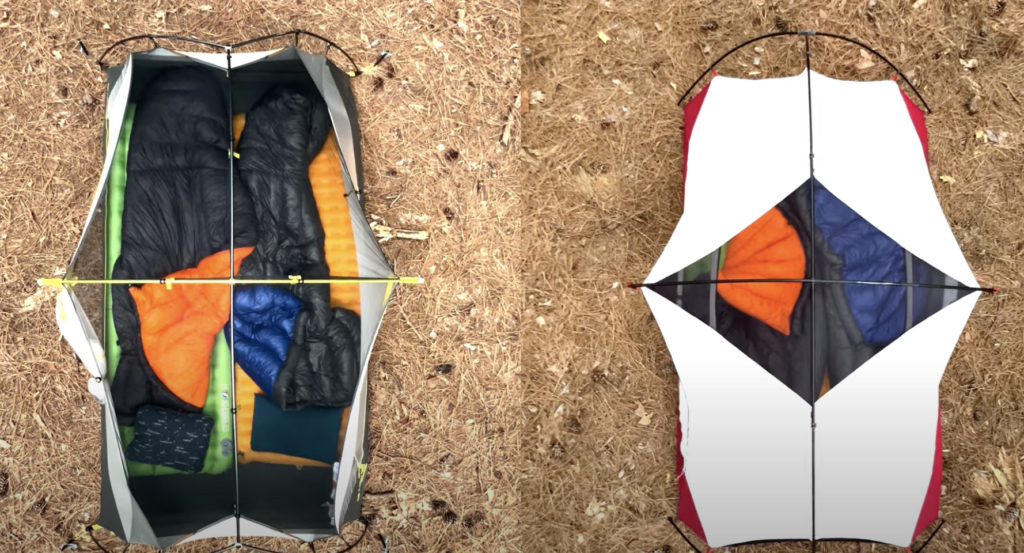 Nemo found a way to attach the cross beam to the rest of the pole structure. But MSR and Big Agnes left the cross section detached, which to me is just begging for you to lose it somewhere. Could you imagine If somehow this got separated from the rest of your poles and left at home, or worse at a campsite somewhere? Without these cross beam sections, these tents are basically useless.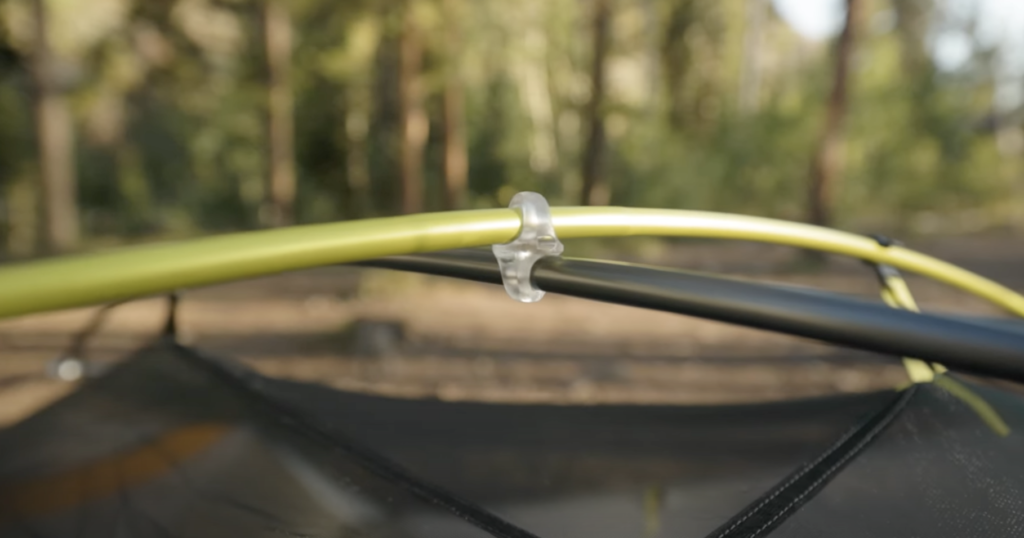 Pockets
On the inside all of these tents there are ample pockets that help get gear off the floor and above your heads, allowing more floor space for what's needed: your sleeping pad.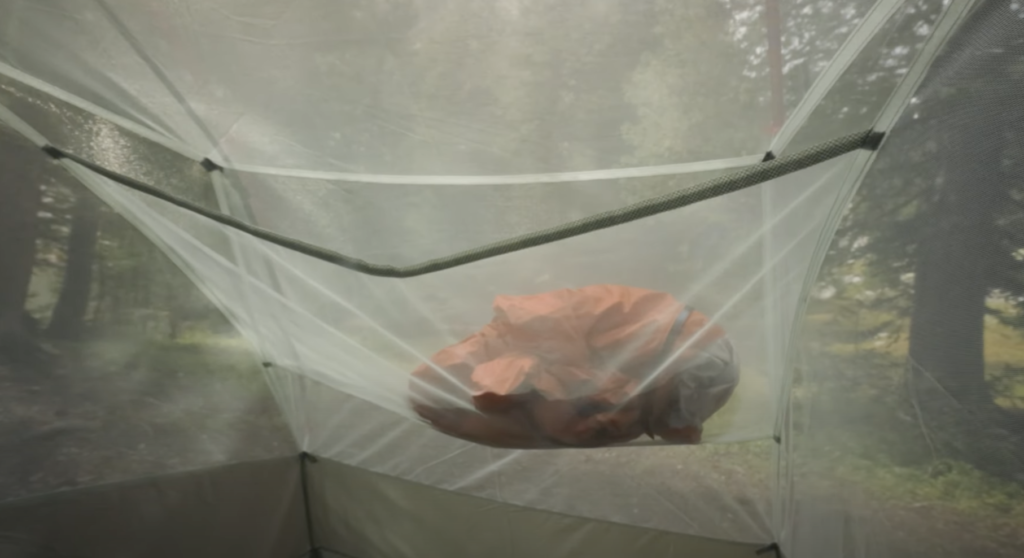 But the Nemo takes this one step further with the Landing Zone storage area.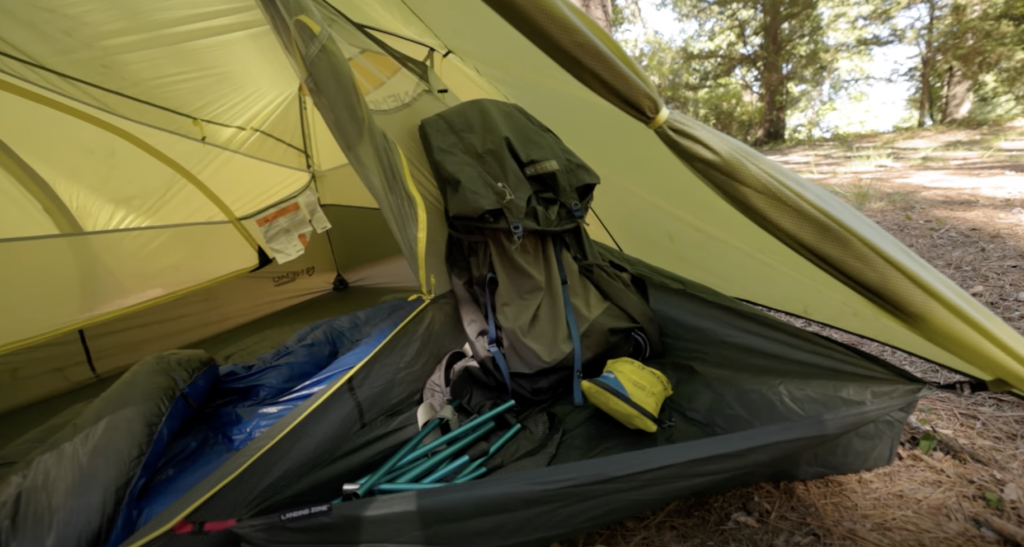 It's basically a small bathtub floor for your vestibule and helps protect your gear from the dirt and elements, while also moving it out of the main tent area. It's like a small, single-wall tent for your gear. It's a nice feature for sure, but is also part of the reason this tent weighs so much.
All three of these tents have really good options for ventilation.
Which one is the best?
The Nemo is certainly the nicest, with its ability to accommodate two wide pads, really spacious vestibules, good ventilation and all the extra little bells and whistles, like the Jake's foot fly-and-pole attachment system, the gate-keeper door clips, OSMO hybrid fabric that's is a mix of nylon and polyester. All of those make this the nicest tent in the group.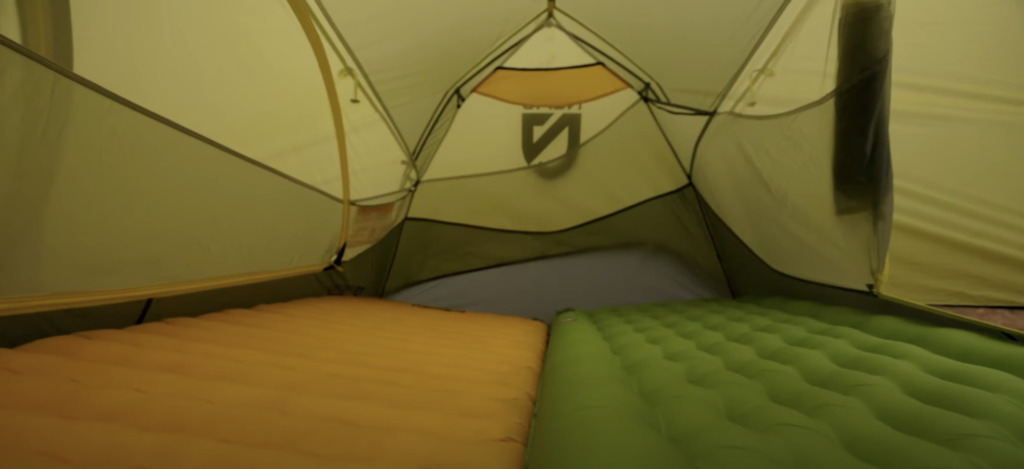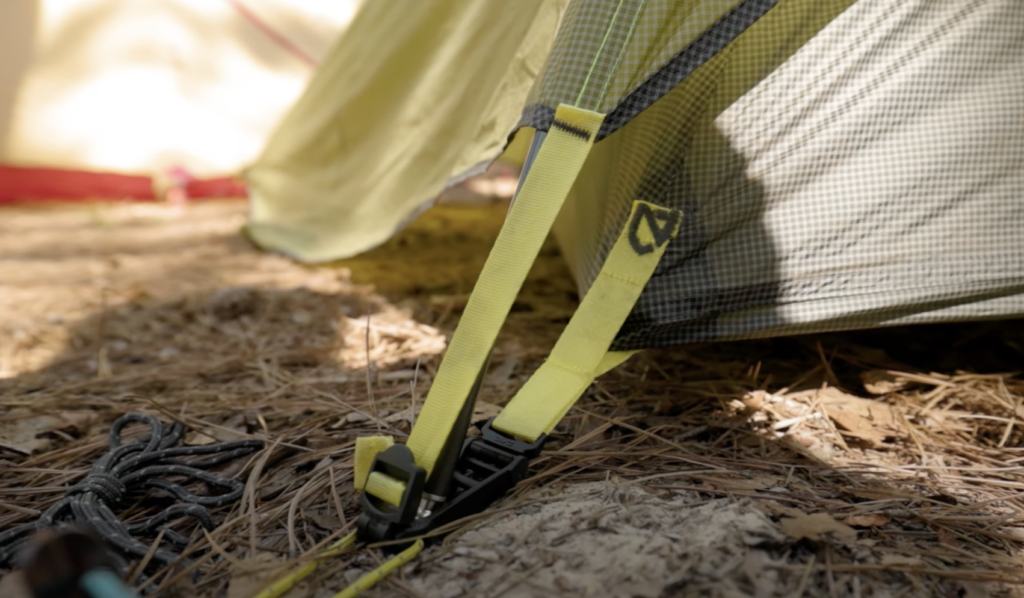 But if I'm being honest, a lot of these features just feel like overkill, and in my opinion, you pay for it in weight. 
The Copper Spur is the lightest, but only by two ounces, and since I can't get two wide pads in here, and it's $70 more expensive than the other two, it's not the best option in my opinion.
Not only that, but anytime you see pictures of this thing, it has trekking poles holding out the vestibule door, and it looks really cool in the pictures, like a nice porch or awning that you could cook under. But in reality, it's so tiny, it feels more like a marketing gimmick than an actual useful feature.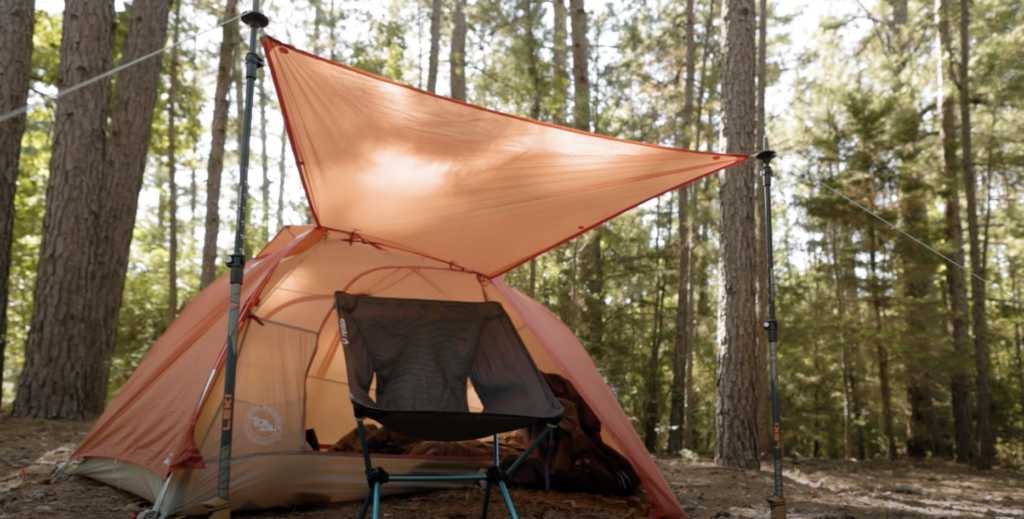 And then you have the Hubba Hubba. And I have to say it feels like MSR really put a lot of thought into this tent. It's only two ounces heavier than the Copper Spur, but you can fit two wide pads. To help save that weight, it has carbon-fiber poles that you typically only see on high-end tents. (Big Agnes has two tents with carbon fiber, and both cost $1,000+. )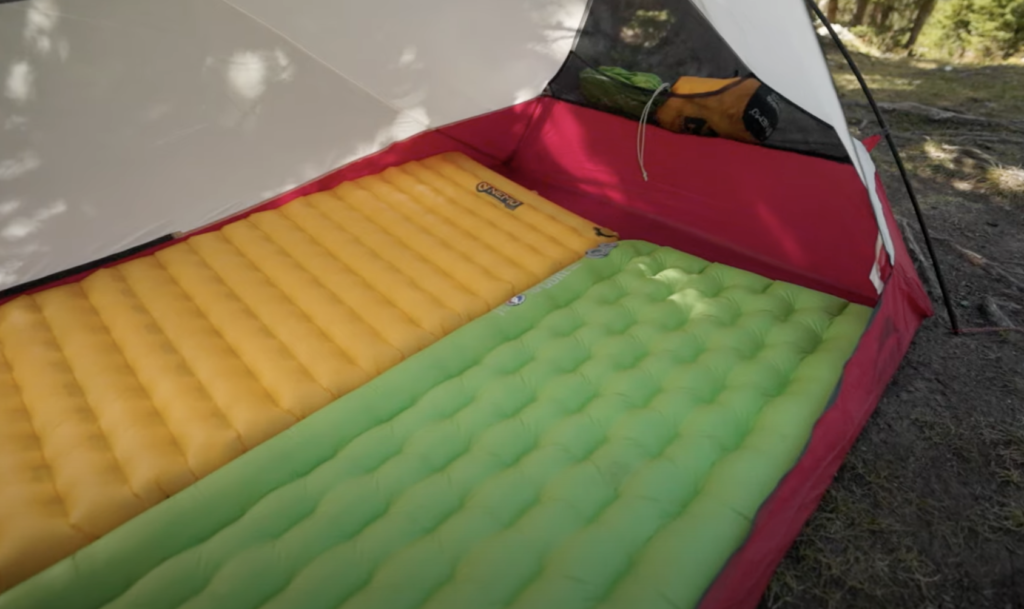 MSR designed the fly so that it's impossible to put it on backwards, where the Nemo and Copper Spur use color-coded clips so you don't try to put it on wrong.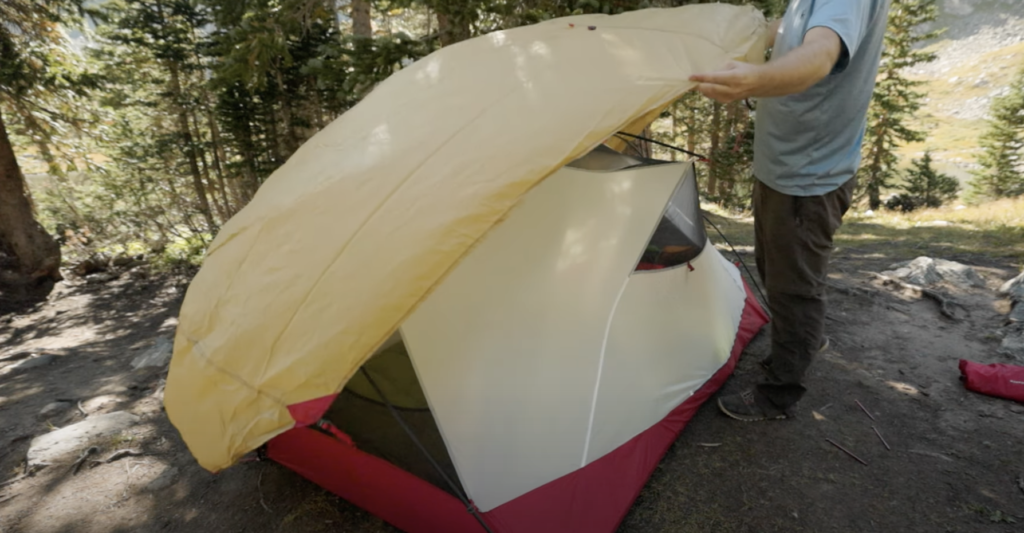 The pockets in the Hubba Hubba roof have these little folding lips that keep your gear from falling out. The fly zippers open up to add ventilation.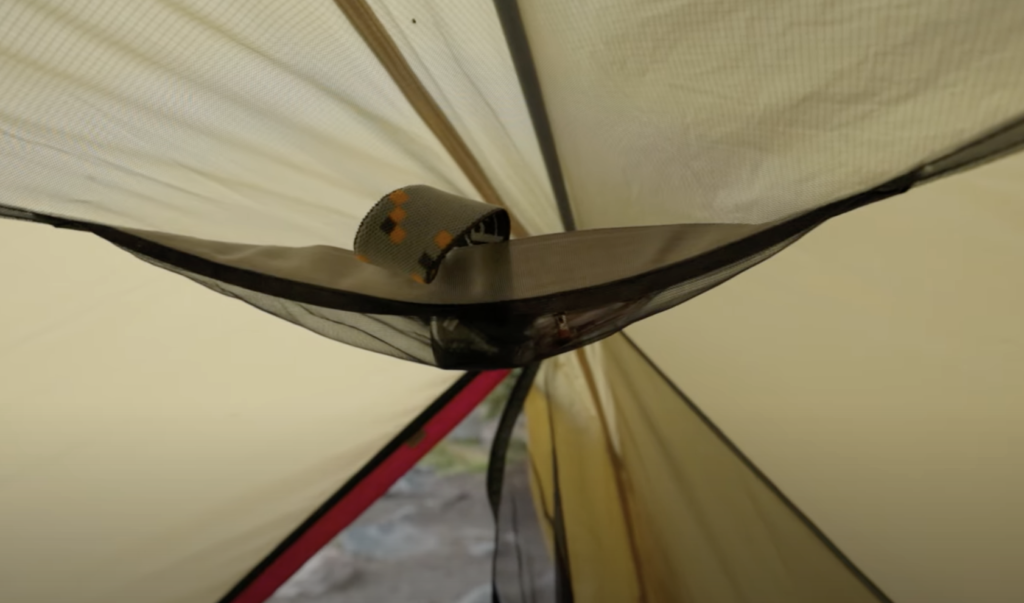 And my favorite feature is the zipper placement on the fly door. It cuts across instead of down the middle. This way you don't have to fold yourself in half to open the tent in the morning.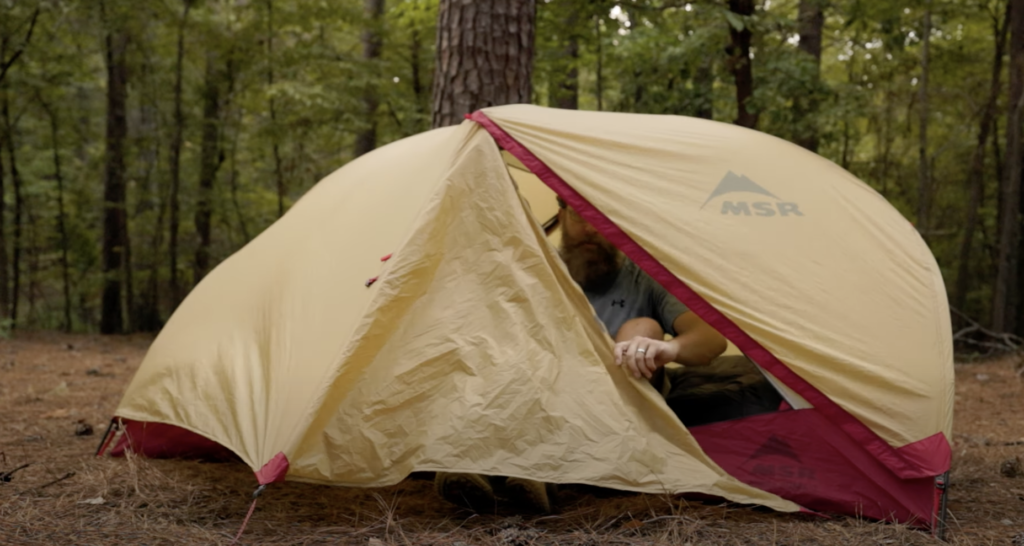 Now, this is the exact same design as the MSR Freelite that I criticized earlier this year, because on the Freelite, this design allows water to drip into the tent when you open the fly. But because the Hubba Hubba extends outward, it moves the zipper clear of the tent floor, so even though you still get some dripping, for one, it's not as much dripping, and two, it's not into the tent.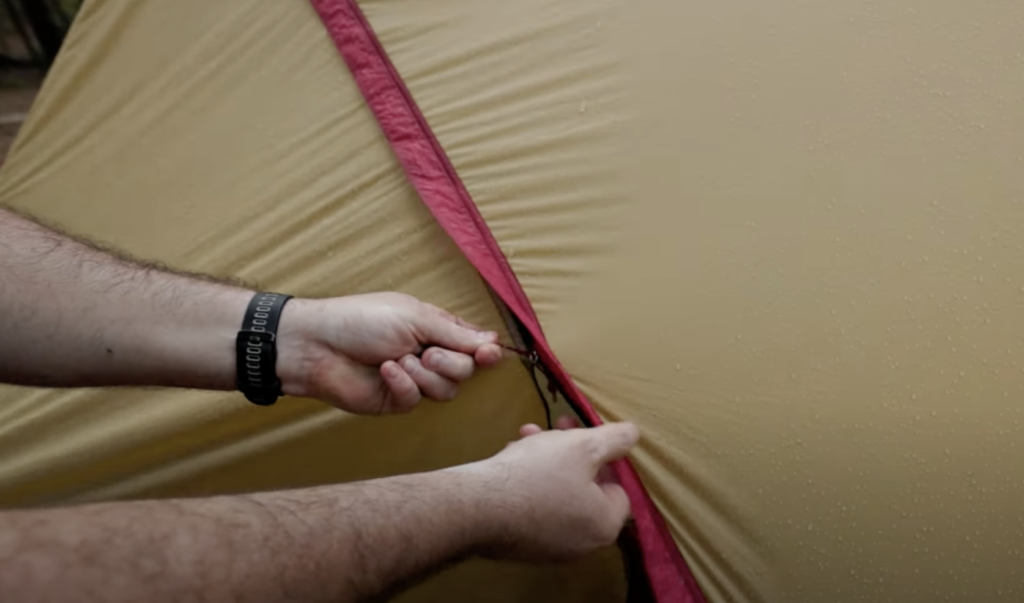 Part of that is because both the Freelite and the Hubba Hubba have these little rain gutters. They don't work well on the Freelite, but on the Hubba Hubba, the way the door hangs opens up the gutter in a way that actually catches the rain and diverts it away from the door, which means less dripping. It's not eliminated, but it's more than acceptable, and with the other features and overall design, MSR did a great job on this one.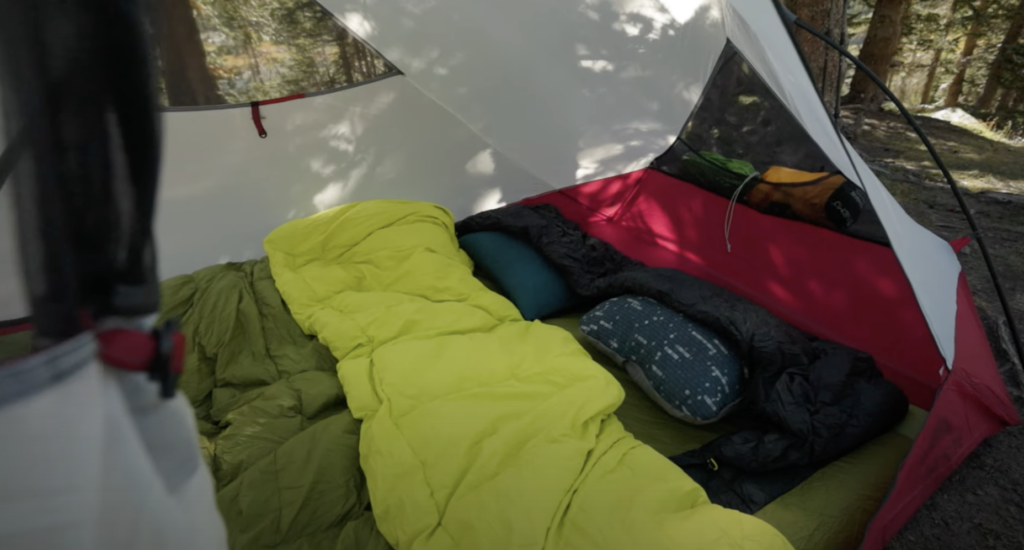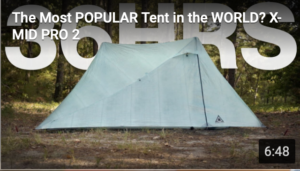 So out of the three, the Hubba Hubba is the best choice in my opinion.
But what do you think? Which tent would you buy? Or would you go with something completely different, like the spacious and extremely light X-Mid Pro two-person tent? Check it out and let me know in the comments below.
Like, follow, subscribe, and do all those other things, and as always, thanks for stopping by.