Texas is nearly devoid of public land. No public land means backpacking opportunities are scarce in the Lone Star State. Even though Texas has multiple State Parks, most are no more than a few square miles in total size. At any given State Park you could hike the entire trail system in a day leaving no real opportunity for backpacking. Luckily we have two National Parks in the Western mountains (yes Texas has mountains) and a small group of National Forests in the East. Together they offer some of Texas' Best Backpacking Trips.
Guadalupe Peak – Guadalupe Mountains National Park.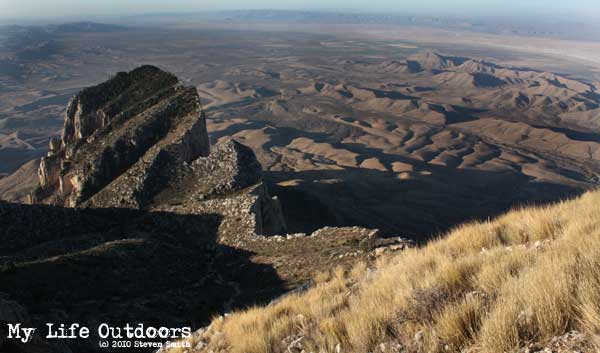 This trip takes you to the top of the highest peak in Texas at 8,749 Feet. This 8.4 mile out and back trail starts in the Pine Spring Campground. Follow the Summit Trail through changing ecosystems culminating in high alpine forests. Most people hike in and out in a day but for a true treat Grab a backcountry campsite in the designated area about 3 miles into your trip. From there you can head up to the summit for a spectacular sunset or wake up early to see the sunrise over spectacular El Capitan to the Southeast. This trail is rated as strenuous. Be sure to pack in water as no water sources are available. Read more about the Guadalupe Peak Trail.
Pine Springs to McKittrick Canyon – Guadalupe Mountains National park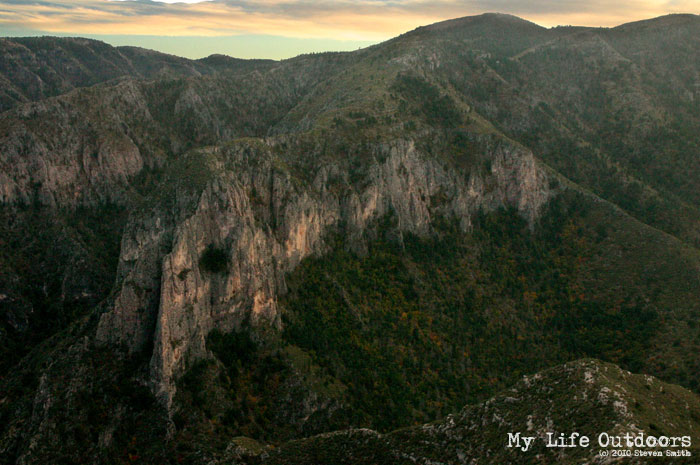 One of my favorite Texas hikes. This 18.9 mile shuttle hike takes you up through the saddle of the Texas second highest (Bush Mountain 8,631) and sixth highest peaks (Hunter Peak 8,368 feet). Follow the Tejas trail starting at the Pine Springs Campground and ascend into the high alpine forests of the Guadalupe Mountains. You have several designated campsites to choose from. Do the trip in two days and stay at the Mescalero campsite. Or take your time and savor the park at my Favorite sites, the Tejas (night one) and McKittrick Ridge (night two). Go in mid to late October to catch spectacular fall colors (and a crowed) in McKittrick Canyon. Once again be sure to pack in water as there are no water sources available.  Read more about the Pine Springs to McKittrick Canyon.
The South Rim – Big Bend National Park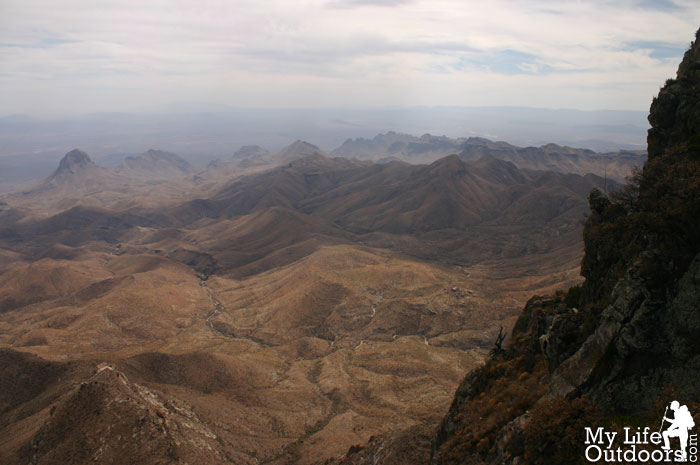 Probably Texas' best known backpacking trail. This 12.1 or 14.5 mile loop (depending on which trails you choose) takes you through the heart of the Chisos mountains. Starting at the Basin trailhead in the Chisos Basin ascend 2000 feet along the Pinnacles trail through boot canyon (with a seasonal spring) eventually coming to the South Rim of the Chisos Mountains. From the South Rim you can look out across the Rio Grand (5,000 plus feet below you) into Mexico. There are multiple campsites to choose from but they fill up fast on busy weekends and holidays (Spring Break is prime time for the South Rim). Campsites can only be reserved on a first come first serve basis. Once again be sure to pack in water or call the ranger station to see if Boot Spring is running. Read more about the South Rim.
Lone Star Hiking Trail – Sam Houston National Forest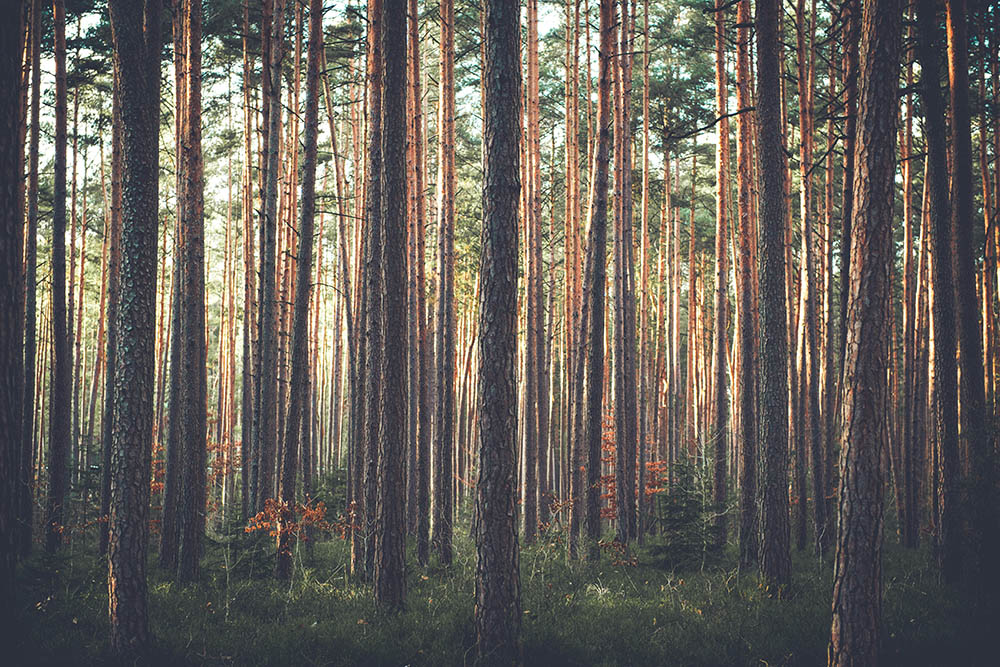 Texas' only long distance trail at 129 miles snakes through the heart of Sam Houston National Forest. Don't expect any grand views or elevation gain along this mostly flat trail. But you do pass the banks of Lake Conroe and a number of running streams. Not to mention miles and miles of secluded forest. If you don't want to do the whole thing there are a few loops on the Western end (near Richards and Montgomery, TX) and numerous road crossings where you can run a shuttle. The Lone Star Trial is only 50 miles north of Houston and some of the only backpacking available in Eastern/Central Texas. Sam Houston National Forest allows dispersed camping anywhere along the trail except from September 15 – February 1 when you can only camp in designated areas. Water is available at several stream crossings. Read more about the Lone Star Trail.
Outer Mountain Loop – Big Bend National Park
This 30 mile loop starts high in the Chisos Basin and descends thousands of feet into the Chihuahuan Desert. A very strenuous trail not recommend for inexperienced or over confident hikers. Water is non existent and temperatures can rise 20 degrees as you lose elevation. Park rangers treat multiple hikers a year for sever dehydration along this loop. As a result caching water is a must and the park provides bear storage boxes for this purpose. Expect to drive multiple hours as you cache water on different ends of the trail. (The Juniper Canyon cache is only accessible by high clearance vehicle.) Once you leave the Chisos mountains dispersed camping is allowed in multiple "backcountry zones." Each zone is limited to a certain number of hikers. Don't forget this is a loop and what goes down must come back up. It's no wonder a large percentage of hikers never finish the full loop. Read more about the Outer Mountain Loop.
Other Texas Backpacks Worth Considering
Bush Mountain – Guadalupe National Park
Hike to the top of Texas second highest peak on a 12.4 mile out and back. 
The Four C trail – Davy Crockett National Forest
Hike along abandoned tramways of the Central Coal and Coke Company that logged this forest in the 1920's. This 20 mile shuttle begins at the Neches Bluff Overlook.